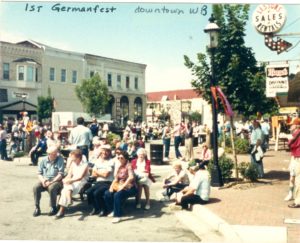 August 22, 2017 – West Bend, WI – The city of West Bend has always held fast to a strong German tradition and 32 years ago neighbors turned out to raise a toast to Gemütlichkeit.
On Aug. 30, 1986 local businessman Herb Tennies, his family and a handful of neighboring shop owners cordoned off a portion of downtown Main St. on a sunny afternoon and welcomed neighbors to drink beer, kick up their heels and polka in the streets.
August 2010, West Bend's Germanfest celebrated its silver anniversary.
That simple four-hour, one-day festival has since grown to a four-day  celebration complete with mainstays of beer, two stages of authentic German music, a sheepshead tournament, dessert tent and thousands of people gathering to raise a stein to their German heritage.
IN THE BEGINNING…
Germanfest started as a maverick idea by Herb Tennies; his purpose was to inject cash into downtown businesses following the cancellation of Maxwell Street Day. And he did it with German flare.
"We held it because Maxwell Street Day got rained out so we had merchants put some of their stuff outside during Germanfest to make up for Maxwell Street Day," said Tennies.
Everything was done on a small scale; an intimate operation carried out by family and friends.
"I made posters and Herb and the kids drove them around town," said Suzanne Tennies about the early marketing effort.
"We had the Alte Camaraden band and hired them for $300," said Herb Tennies who enlisted the help of a couple people who chipped in. "The bank (Marine Bank and M&I) gave me $100, Saeger's Men's Apparel had $100 and I had $100."
"We had one little pavilion and one little food vendor," said Suzanne Tennies.
Now, 32 years later, the popularity and growth of the small-town festival has surprised everyone.
"We didn't know this would go over…" Herb Tennies on the first year of Germanfest 1986.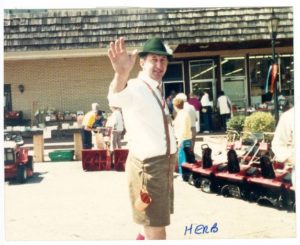 "We went one year and they asked for two days and we went two days, and they asked for three days, and then they asked to do it twice a year and we said 'no' – once a year and three days is enough." Dolores Stoffel on the growing success of Germanfest.
"Since the office at the Downtown Marketplace was so small the Germanfest committee would meet down in the patio furniture area at Tennies Hardware Store downtown. We'd all pick a chair and the committee was just fun.. it was a riot." Lisa Neumann – former head of Downtown Association
"First time I saw Germanfest I liked it; I liked the music and I liked the friendship and the whole operation and decided I wanted to be a volunteer." Bill Lutz, volunteer since 1990.
"I got started working in the beer bar – it was a good place to start. After Jerry Steffen left I kinda adopted his job and I've been doing that ever since – making sure that everything gets set up and taken down in its proper way."  Bill Lutz
Germanfest is Aug. 24 – 27 in downtown West Bend.
Photos courtesy the Tennies family.