A love story in Barton: Ramping up for Christmas in Barton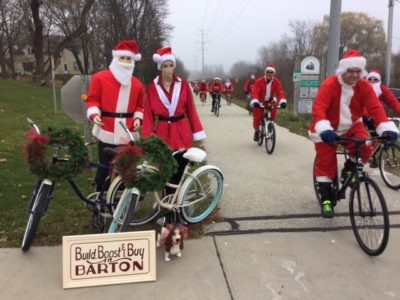 Dec. 5, 2016 – Barton, WI – Essie sat on the braided rug in the dark by the fireplace shivering and holding her toes. "Just don't know why you put yourself through this," said Grandma.
Essie had just returned from the sloshy Diamond Dash down the hill at Regner Park. She was a bit exhausted, not only from the run but a whirlwind schedule that left her little downtime.
Deb had quickly rearranged the stock at
Over the Moon 
and shelved the Thanksgiving and
Hallo
ween displays for everything winter, white and Christmas.
Essie held her spot in the window display but also managed a guest appearance in Chicago as Ann Marie Craig from Century Farmhouse Soaps had her signature soap on display at a weekend show.
"The decorations look nice," said Essie as she returned to the room, dry socks and a steaming cup of Earl Grey tea in her hands.
"You're not going to be able to sleep if you drink that," advised Grandma. She rocked a couple gentle rounds, a quilt draped heavy over her legs. "Jeff and Hank put the decorations up last week," she said.  "Those boys did a fine job."
Essie hadn't seen Hank for about a week. The last time they were together they were busy boosting Barton on the Eisenbahn Trail during the Santa Ramp Up.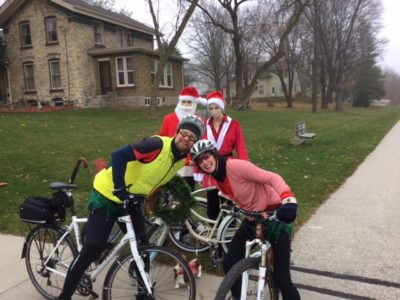 "Now don't forget we have Mass this Thursday," said Grandma.
Essie watched as grandma pushed aside the quilt. It took her three elephant heaves before she could get the momentum to stand.
Thursday is a Holy Day of Obligation; it's the Feast of the Immaculate Conception.
"A special day," said Grandma. "Especially for St. M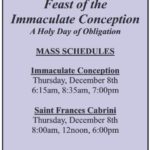 ary's in Barton.
Rev. Nathan Reesman wrote in Sunday's bulletin that, "the Immaculate Conception is the patronal feast day of Immaculate Conception Parish, and parishes are always blessed in the celebration of their name days."
 Joker's 5 Bar & Grill and the 3rd annual Teddy Bear Drive
Joker's 5 Bar & Grill, 1642 Barton Avenue, is collecting stuffed toys for its 3rd annual Teddy Bear Drive.  Kay and Diane Holbrook are looking to collect over 200 stuffed animals which will be donated to the CICU at Children's Hospital.
Bob's Main Street Auto wants to see YOUR ugly Christmas sweater
Buttons, Glitter & Bows!
Do you have what it takes to "Rock it"? Don your ugly sweater apparel and submit your picture via Facebook to enter the Bob's Main Street Auto UGLY SWEATER CONTEST!
With the winter driving season upon us
Bob's Main Street Auto
, 1200 Main Street, is offering tips on how to keep your vehicle running efficiently. The are several preventative maintenance tips available by clicking
HERE
.
Build. Boost & Buy in Barton  – – Shop these local businesses

          Wisconsin House Woodworks

          Master Electric
           Lake Lenwood Beach and Campground
Bob's Main Street Auto & Towing

Joker's 5 Bar & Grill, 1642 Barton Avenue




 


The Sign Shop of West Bend, 1624 Schmidt Road All exterior signage including Banners, Yard Signs, Sandblasted, Illuminated and Monument.

Interior signage including, Engraved, Way finding, and  Room Identification Decals include: Corporate branding, Security, Serialized, Safety/Warning/ OEM decals, and Control Panels.

Vehicles graphics for Corporate, City, and County fleets, Recreational and Personal Vehicles, and also Window Decals identifying business name, and hours of operation.

West Bend Glass Block, 1527 N. Main Street