A love story in Barton – Random encounter at Toucan Custard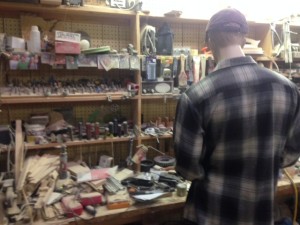 "You can't keep living on orange soda and Geiser's potato chips Hank," said Deb as she shuffled into the wood shop. She was always keeping a motherly eye on Hank and his junk-food diet.
"I'm helping keep Frank's Meat Market in business," said Hank.
"It's past noon – why don't you go get yourself something decent to eat. We're closing early for Joe's funeral, I expect much of Barton will be there," said Deb as she scurried back to Over the Moon.
Hank stood futzing at the workbench. He was making slow progress trying to dovetail joints on some shelving for the fellas at Small Town Bait & Tackle.
"Those boys aren't going anywhere," said Hank as he set his project on the workbench and doppled out the back door to go sniff for food.
Hank walked around the corner and up Barton Avenue, he glanced in the window and the rope swing was empty. He hadn't seen Essie since the St. Mary's fish fry.
His stomach growled just thinking about food.
It had started to snow again. Hank pulled the collar up on his plaid wool hunting coat. It was March and hard to imagine spring was a couple weeks away.
As Hank strolled past the old meat market he figured it wouldn't be long before the boys would be out, pitching pennies against the wall. Fellas like William Brockman, Charley Placek, and Ronny Walla – talking big and then running up the street to Sandy's Barton Cafe, the coins burning a hole in the pockets of their britches.
A quick change into his dress clothes, Hank ran down the hill past Bob's Main Street Auto & Towing.

He had his eye set on Toucan Custard and his appetite was leaning heavy into a Kong Burger with Chili Cheese Fries.
Hank was a pretty frequent customer of Toucan's, even in the winter when some groused about the fridge Wisconsin weather he'd skip in for an Andes Avalanche with Mint ice cream and Andes Candies or he would launch into a triple scoop of Chocolate Thunder – why mess with pie  à la Mode when you can have it all jammed together in one big waffle cone – light chocolate custard with pieces of pie crust and chocolate flakes.
One of the blonde Moehr  girls was behind the counter. They all look the same, thought Hank.
A cool breeze crossed his back as someone came through the door. Hank barely noticed as he and his stomach focused on the menu.
"You going to memorize that," said a voice from behind. Hank turned – it was Essie. "Well you look mighty dressed up for someone grabbing lunch on a weekday afternoon," she said.
"Deb said everyone's going to be closing early today for the funeral so I ….. ," Hank stammered.
"Where are my manners, would like to join me? Can I get you lunch? How about a Triple Kong burger with onions?" he joked.
The pair walked to a back table and sat down. Essie was in a simple blue pattern dress, she had come from work and quickly filled in the blanks for who she wasn't in the window. "Deb had me preparing for the Vintage Shop Hop and I had to take one of grandma's friends for a hair cut by Diane at Reflections by the River and I just thought I'd grab a quick bite before I head back," she said.
Essie was chatty. Hank was hungry – it was not making for a good combination.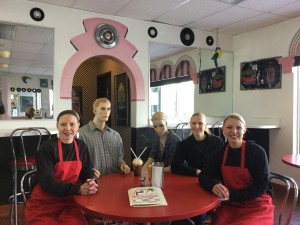 Before the two of them could order they were surrounded by Moehr girls. "We saw you two sitting back here and brought you a root beer float to share," said Becky.
"That's so sweet. Isn't that just so sweet Hank," purred Essie. Then she kicked Hank under the table and mouthed, "I can never tell them apart…."
Beth and Jacci pulled up a chair. They started reminiscing about when Chris and Larry Porter owned the business, the Citgo gas station and Janitor Supply being across the street along with the tiny DQ at the bottom of the hill.
"Remember the banana-split eating contests and that guy from Cedarburg who had us put the ring in the turtle sundae because he was going to ask his girlfriend to marry him," squealed Jacci.
"Good times," said Beth.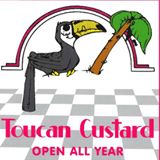 Toucan Custard, 600 N. Main Street in West Bend is open year round.
– – Build. Boost & Buy in Barton  – – Shop these local businesses

          Wisconsin House Woodworks 
          Albiero Plumbing Master Electric
          Vrana Lock &Key