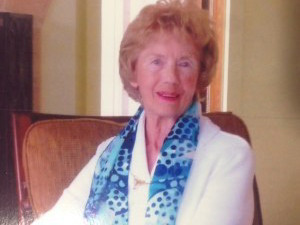 The folks at Cedar Ridge are remembering Jan Petri who died Friday, March 4. Petri and her husband ran Petri's Supper Club in the 1970s. It was located at 315 N. Main St. in West Bend.
Historian Terry Becker researched the location and found show Carl and Dolores Hansen owned Hansen's Steakhouse, at 315 N. Main from at least 1964 to at least 1970.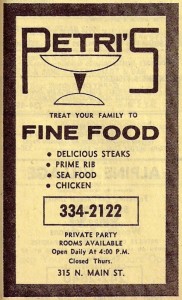 Carl Hansen sold his business and opened up a new joint down the street – possibly where Krimmer's is located.
In the middle there was JP Club and Petri's Steakhouse/ Supper Club.
Petri's was in business until around 1974 when Dave and Mary Ann Cross came in with Dave's Steakhouse.
Harvey and Mavis Schmidt ran it as the Schmitzelhaus.
Tom and Grace Kusick had the Cachet Club and Brian and Geri Literski ran Tastings Food and Spirits.
Tastings Food & Spirits opened in 1997 and closed in November 2010.
West Bend Tap & Tavern opened in 2013.
Funeral details for Jan Petri will be posted shortly.
Hat tip Steve Kissinger for the vintage poster.