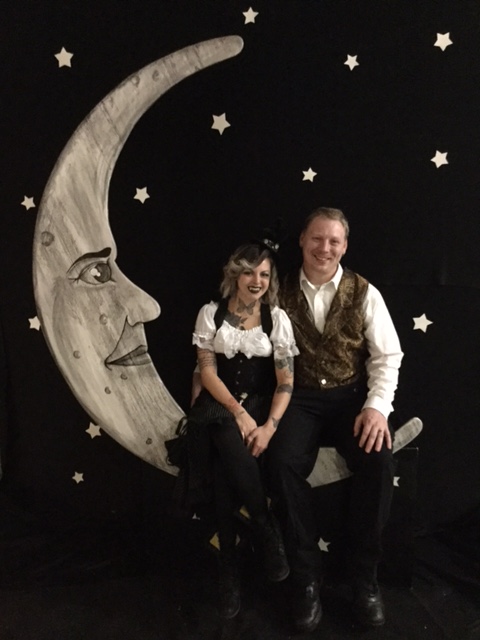 Oct. 31, 2016 – Barton, WI – There was a lot of activity Saturday at St. Mary's Parish Center (also known as the gym). The Harvest Moon Celebration was about to get underway and organizers were sweaty and exhausted from the setup.
Hank spent much of the afternoon hauling hay bales, toting 12 packs and helping set up the silver moon for photo shoots.
Essie was just across the gym floor labeling pies, dressing tables and decorating pumpkins for the big event.
Ladies from the Washington County Senior Center doppled in with donations. "And the Lord said, 'Let there be pie,'" yelled Janet as she turned over a meaty apple pie with a crisscross pattern on top.
Below is a photo gallery of some of the highlights of the evening that included a pie-judging contest with Mayor Kraig Sadownikow, Bob Bonenfant, and Rev. Justin. There was also music from Kenny Brandt, wonderful pulled pork sandwiches from Fat Boy BBQ, and fantastic volunteers from businesses in Barton.
New business in Barton
There is a new cosmetic business looking to move into Barton. A cosmetic makeup establishment, Salon Ink Me Beautiful, is seeking a conditional use permit for 1747 Barton Avenue.
The applicant is Michael D. Smith of Kewaskum and the agent is Patsy Amenda of West Bend. The request will go before the West Bend Plan Commission on Tuesday, Nov. 1.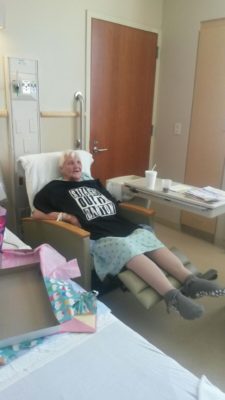 What do you get a 102-year-old Bartonite?
Having trouble finding a gift for your great, great, grandmother? The family of Rose Vogelsang found something that fit their loved one perfectly as they surprised Rose with a "Straight Outta Barton" t-shirt. The life-long Barton resident wore it with pride as she celebrated birthday No. 102.
Assembly Rep. buys building in Barton
Assembly Rep. Bob Gannon (R-Slinger) has purchased a pair of buildings in Barton. "I've always wanted to own a piece of Barton," said Gannon.
Acting as WB Inn, LLC, Gannon purchased the building to the north of the Milwaukee River, 1769 Barton Avenue and Gadow Lane. The parcel sold for $185,000.  Gannon also closed on a duplex in Barton.
Fixing the steeple at St. Mary's Parish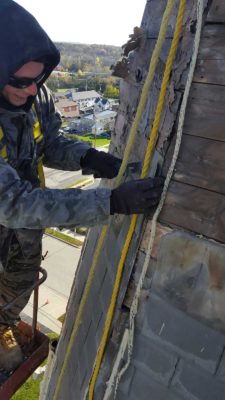 Week No. 2 of the steeple repair at St. Mary's Church in Barton. The 100-year-old slate shingles are being removed and new synthetic shingles are being put in place. The crew from Krause Konstruction is tackling the project 126-feet in the air. Lead contractor Eric Fischer said they just completed a steeple in Appleton which was 100-feet higher than the steeple at St. Mary's.
Still no ID on $3 million lottery winner
It's been nine days since word came that a $3 million MegaBucks ticket was sold at the Citgo in Barton. The holder of the ticket has 180 days from the October 22 drawing to claim the prize at the Lottery's headquarters in Madison.
If the winner of the $3 million jackpot were to choose the cash payout, the lump sum would be $2.2 million.
The winning Megabucks numbers were 02, 10, 23, 36, 39, and 49.
Build. Boost & Buy in Barton  – – Shop these local businesses

          Wisconsin House Woodworks

          Master Electric
           Lake Lenwood Beach and Campground



 


The Sign Shop of West Bend, 1624 Schmidt Road All exterior signage including Banners, Yard Signs, Sandblasted, Illuminated and Monument.

Interior signage including, Engraved, Way finding, and  Room Identification Decals include: Corporate branding, Security, Serialized, Safety/Warning/ OEM decals, and Control Panels.

Vehicles graphics for Corporate, City, and County fleets, Recreational and Personal Vehicles, and also Window Decals identifying business name, and hours of operation.

West Bend Glass Block, 1527 N. Main Street