Addison Elementary student meets Cong. Ryan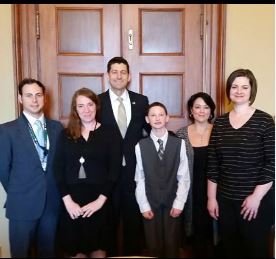 A West Bend boy and his family met with legislators on Capitol Hill in Washington D.C. this week as lawmakers recognized Rare Disease week.
Becky Abbott has written a number of guest columns regarding her 10-year-old son Aidan who had a rare disease called Ectodermal Dysplasia.
"My family traveled to meet with legislators this week and were able to visit the National Institutes of health in Bethesda Maryland to see the portrait of Aidan in the Beyond the Diagnosis Exhibit," said Abbott.
"Aidan shared his story with the legislators as well as Speaker Paul Ryan at Capitol Hill. It was a great experience and he has been incredibly brave."
Last October Aidan was featured in an article in the Boston Globe as it covered the Beyond the Diagnosis exhibit by Rare Disease United Foundation. It was on display at Harvard and will later the National Institutes of Health.
There are portraits of children who have different rare diseases and are trying to raise awareness for rare diseases.
Aidan goes to Addison Elementary School and he was chosen to represent Ectodermal Dysplasias. He was one of a few children who had their picture in the Boston Globe today.
"We are just amazed our son is going to be seen by many and raising awareness for all families that suffer from rare disease," said Becky.
"The artist who painted the picture of Aiden is from Pennsylvania and did the portrait off of a photo we sent her."