Remembering Pizza Joe's in Barton
There were memories of good food and good times at the memorial service Thursday for Joe Barbercheck, owner of Pizza Joe's in Barton."
"When we moved to Wisconsin we were actually Papa Joes," said Mark Barbercheck, son of Joe. "They sent us a letter."
Mark said if you look closely at the old sign that hung on the wall outside the business on Barton Avenue you can see it's made up of three boards. "I said let's just make it Pizza Joe's and we replaced the boards and changed it from Papa to Pizza."
Mark started in the pizza business with his dad when he was in 6th grade and they were living in Indiana.  "At that time we were Gambie's and we were located in Rensselaer," he said.
Things weren't happening for the Barbercheck family in Indiana. They were set to move to Colorado but had to pick up their sister Dawn at camp near Mauthe Lake. "We came through here and liked the area and ended up moving here instead."
Pizza Joe's first opened in Kewaskum, 250 Main St., where Michalenos Pizza currently is located. "That was 1976," said Mark.  "We moved here the week before the ice storm and everybody got so sick."
The pizza shop eventually moved to Barton Avenue. "A bigger market," said Mark.
Pizza Joe's specialized in carry-out pizzas and subs. "When we opened the sit down our lasagna was pretty big," he said.
Darlene LeRoy of West Bend said Joe Barbercheck was a very close personal friend for almost 30 years.
"Both our daughter's first jobs were at his restaurant and that is how we became friends," she said. "He was a very fair and kind boss, always had a way to get everyone to do the best with a firm, yet loving discipline. He cared about everyone who worked for him and he respected him for that.
A kind and generous friend, LeRoy said Joe was happiest serving food and he took great pride in everything he made.
"His menu went far beyond pizza," she said. "He made a wonderful Italian egg roll, a small pizza folded in half and deep fried, garlic bread, plus a huge chicken sandwich and great California burger.
"His pizza was perfect and broasted chicken, the best in town, also the best homemade German potato salad. He also made apple strudel on occasion which was a great treat."
During his career Barbercheck opened six restaurants. Every one of those restaurants closed after he sold out to new owners.
There was a fire at Pizza Joe's in Barton in 1980. Barbercheck sold the restaurant after he was diagnosed with terminal throat cancer. He bought it back about three years later. The last Pizza Joe's, changed its name to Just Joe's and was at 1726 Barton Ave., where Maricio's is now.
Joe ran the pizza business upstairs and Fast Eddy's tavern was in the lower level.
Joseph P. (Pizza Joe) Barbercheck , 77, passed away unexpectedly at his home on Friday , Feb. 26, 2016
His greatest passion was his restaurant Pizza Joe's that he started in Kewaskum and later moved to Barton.  Most of his friends and customers would kid with him and say, "first name Pizza, last name Joe.  He had such a hard working soul and his positive spirit carried us thru everything.  His favorite saying whenever he was asked how he was doing was "I'm in good shape for the shape I'm in" and he would say it with a smile on his face.  Joe was the happiest when he hooked a walleye on his cane pole, and when his grandchildren came to visit.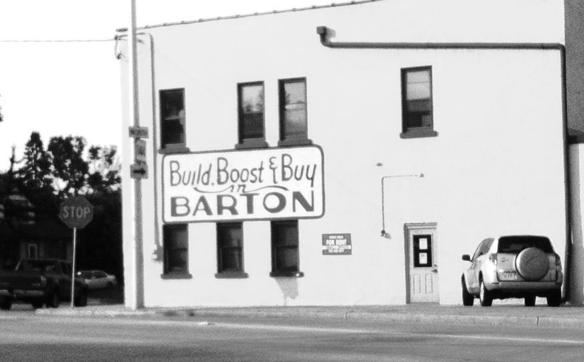 – – Build. Boost & Buy in Barton  – –