July 13, 2018 – I was adopted in Harbor Springs, MI, by the wonderful Nancy Cook.
She just came into the public library to renew a book and ended up taking us both home.
Nancy was widowed several years ago after her husband Bob passed away following a battle with Parkinson's. She said her eight kids, grandkids and great grandchildren keep her busy.
"I took myself out for a little picnic supper tonight," said Nancy. "I even bought a small glass of wine."
An avid traveler, Nancy loves adventure and downhill skiing. Years ago she and Bob went everywhere in their Fifth Wheel camper, traveling to Seattle and California; they even toured Alaska and Rome.
"I even took my turn behind the wheel," said Nancy, a diminutive woman of 5'4″ with spunk, "I tell you I thought some pretty blue words trying to maneuver some turns in that thing."
We became fast friends, exchanging stories of adventure and mishaps.
"Oh, glory," said Nancy; her favorite expression when listening to my 26-days-without-luggage-tour in New Zealand.
In the morning Nancy fixed a lovely breakfast of yogurt, fresh berries, whole grain toast, rich coffee, and "a hard boiled brown egg for protein." We ate amongst the chicken/rooster decor in her charming kitchen.
The neighbor's dog came over to visit and Nancy prayed it wouldn't water her flowers. She hurried to the screen door. "Time to go home now, Skip. Think you should go home now." It was like being yelled at by Mary Poppins.
Nancy was just so genuinely nice and warm hearted, even when she was shoo-ing the dog out of her yard.
Exploring the History of Harbor Springs
The Harbor Springs Historical Society is a fun step back in time with photos detailing everything from the Native Americans to the industry surrounding the Shay locomotive and its impact on the timber industry.
Also well documented is the automobile and how it changed the tourism industry along the shoreline.
Below is a photo of the Harbor Springs Police Chief directing traffic from a crane.
Harbor Springs also had a committed retail industry.
Rose Rosenthal was a fixture at her Main Street clothing store for 60 years.
Rose started in Business with her husband Phil in 1923. She was not only known for her ability to make the sale but also for passing out homemade fudge to her customers.
The Mayberry atmosphere of Harbor Springs hasn't changed and the homes along the shoreline are elegant with their wraparound portches highlighted by red, white and blue bunting.
Little Traverse Wheelway
Found a gem of a paved bike trail from Harbor Springs 23.4 miles south to Charlevoix, MI.
The Wheelways runs adjacent to Little Traverse Bay and mostly along M-119.
The path is well marked and scenic. I stumbled upon Beards Brewery in downtown Petosky and purchased a couple 12-ounce Grizzly Adams IPAs for after the ride.
Just down the road was the St. Francis Solanus Indian Mission built in 1859 by Bishop Frederic Baraga.
During a renovation of the church in 2005 there were 60 graves found around the church.
Many of the graves were marked with white crosses. Mass is still held on Sunday at the church.
Just before reaching my destination of Charlevoix, there was this adorable little cherry stand.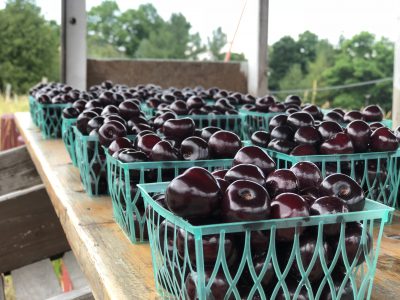 $5 a pint…. and, yes, I paid the man.
Wrapped up the day on almost a mile-long boardwalk as I rolled into Charlevoix.
A note of thanks to Community Reform Church in Charlevoix for providing a safe space to stay.