Amberg man arrested for 10th OWI in Washington County | By Washington Co. Sheriff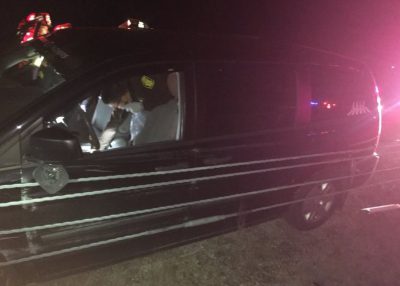 Oct. 16, 2018 – Washington Co., WI – On Monday evening, Oct. 15 at 6:41 p.m. the Washington County Sheriff's Department took a 911 call regarding a northbound vehicle on I41 near STH 167 that was swerving across all three lanes of traffic and did not have headlights on.
Prior to deputies intercepting the vehicle, the operator sideswiped a tractor trailer and continued north.
The vehicle failed to immediately stop for deputies and crashed into a median cable barrier south of STH 145.
The driver, identified as a 60-year-old Amberg man, appeared to be in the onset of overdosing and was removed from the vehicle by deputies.
The subject could not stand on his own or speak. Jackson Rescue arrived on scene and administered Narcan.
The subject was transported to St. Joseph's Hospital and arrested for OWI.
While the Washington County Sheriff's Department indicates this is Thomas Schwind's ninth OWI,
Fox 6 in Milwaukee
said it's his 10th.
Schwind's near-death experience was just the latest in 25 years worth of bad decisions. Schwind has been convicted of eight prior OWI offenses in Wisconsin. For his most recent conviction in 2009, he was sentenced to four years in prison followed by fours years extended supervision. Following his time served, Schwind was charged this past summer in Ozaukee County for his ninth OWI.
After medical clearance Schwind was taken to jail where he remains in custody for felony bail jumping, possession of heroin and OWI.
Schwind is due in Washington County Circuit Court before Judge James Muehlbauer on Nov. 14.