American Architectural Group Transforms Historic Building | By Emily Liddicoat
Feb. 25, 2019 – West Bend, WI – American Architectural Group(AAG) has been part of the American Companies family since 2000.  With over 90 combined years of experience, AAG offers services for commercial, office, retail, municipal, multi-family, industrial, and hospitality buildings.  At American, we design 90 percent of what we build, and we build 90 percent of what we design.
One particular project AAG designed is The Grainery, 720 W. Virginia Street in Milwaukee.  This historic structure, built in 1920, was once a six-story hide warehouse part of the Pfister & Vogel Leather Co. Menomonee Tannery complex.  With the help of American Architectural Group, the facility is being transformed into an eight-story luxury apartment building.  Design work on the 100-year-old building began in 2016 and it will be the first residential property in the Tannery Business Center near the Menomonee River.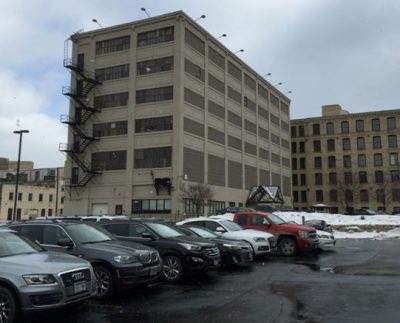 Photo of the Grainery from the past.
"Robert Bach is the developer/general contractor for this project, always seeks to maintain the character of a repurposed structure while transforming it into the highest and best use the market will support," said AAG architect Pat Storrs. "His buildings have many special subtle design features, numerous user amenities and high quality, timeless finishes.  Bach's projects are successful because they have figured out how to make Architecture economically essential."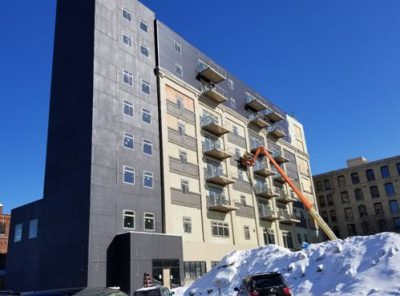 Grainery current construction.
To service the additional floors an elevator has also been added.  Previously the building was 61,134 square feet and after completion, the 69-unit apartment building will be 87,005 square feet.  The modern facility will feature a fitness center, a roof patio deck, community room with kitchen, and two levels of indoor parking.  Construction started in 2017 and will be completed this summer.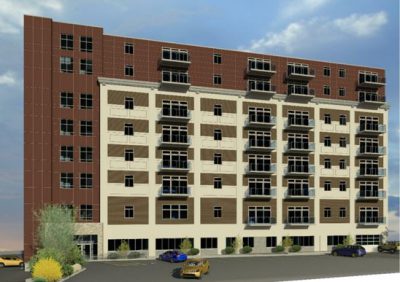 About American Companies
Together, American Companies are a full-service Commercial Design l Build l Develop l Real Estate firm which includes American Construction Services (ACS), American Architectural Group (AAG) and American Commercial Real Estate (ACRE).  Since 1980, ACS and AAG have built a solid reputation through their expertise in construction management, architectural design and structural engineering.  ACRE was added in 2018 to round out their portfolio by offering property sales, leasing, management and investment services.
American Companies are based in West Bend, WI and serves the northern Midwest states.  They specialize in commercial and industrial buildings including hospitality, medical, retail and multi-family facilities.
At American Companies, "Our job is to allow you to do yours."
"Architecture should speak of its time and place, but yearn for timelessness." – Frank Gehry