Welcome Daniel Frey and Modern Woodmen to WashingtonCountyInsider.com
Feb. 25, 2019 – Washington Co., WI – Welcome to Danny Frey and Justin Nothem of Modern Woodmen, W. Washington Street in West Bend.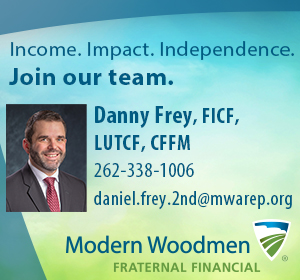 My name is Daniel Frey II and I live just outside St. Lawrence with my wonderful wife Amanda and two beautiful children Daniel and Tovah.

I have had the opportunity to be an advisor and Managing Partner with Modern Woodmen Fraternal Financial since 2007.

As an advisor with Modern Woodmen I not only help families, individuals, and business take care of all their financial and estate planning needs, but I am able to create such a huge impact to our communities through our fraternalism.

People often ask, "What is Fraternalism?"

Well in a simple explanation it means our organization is 100 percent not for profit.

Modern Woodmen gives every penny of profits back to our local communities and members to help make our world a better place.

This is such a blessing and gift to be part of something this big.

I started my career in 2007 because I wanted to be part of helping others.

I have personally always believed in properly saving so being able to be an advisor and impact a community at the same time with Modern Woodmen was a great fit.

I made the decision to step into a Managing Partner role back in 2011.  This is a great organization and a great career.

Being a Managing Partner I am also now able to help bring others into the industry that have the same beliefs I do.  I am there to help make sure they grow into a successful advisor and make the same impacts in their communities that I have the opportunity to do.

When I am not at work in my superhero uniform, I am a very happy family man.   I spend most of my time with Amanda and the kids.   We enjoy cooking, and spending time outside in our yard.   I enjoy fishing (even though I am not that good), hunting, and cars.  I have also now discovered with my 4-year-old and 2-year-old anything that they like I also now like. LOL  I wouldn't have it any other way.

So if you are interested in a great career helping others and you would like to do it with the support of a great organization and team please stop in or reach out to me anytime.

Or if you are simply looking to receive some solid and sound financial advice from an organization that cares about you and about your community our door is always open.
Please support the local businesses that help support WashingtonCountyInsider.com   Because of the support of Modern Woodmen the news on WashingtonCountyInsider.com is provided free with no password or subscription needed.
Local news from Washington County is provided free to the community 24/7 and 365 days a year.
Take a moment to thank Daniel Frey and Justin Nothem for supporting the community and WashingtonCountyInsider.com