American Companies break ground on hotel in Monona, WI | By Emily Liddicoat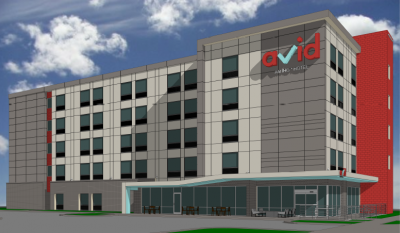 Oct. 17, 2018 – West Bend, WI – American Companies of West Bend is beginning work on its fourth hotel of 2018.  The contemporary AVID Hotel, located at 900 W. Broadway in Monona, will stand five stories tall and contain 92 guest rooms.
The hotel is conveniently located near Highway 12, with easy access to the University of Wisconsin-Madison.  Scott Kintopf of American Architectural Group worked on the AVID Monana project and after completing six months of drawing and designing, he handed the project off to Project Manager Ryan Weyker of American Construction Services.
Construction began last month and is expected to be completed by the end of 2019.
The building's exterior features a retail-like glass entry with a cantilevered canopy that has a waterfall edge returning to the ground.  The stairwell is used as a striking bright red architectural feature.
On the interior, visitors will experience a vibrant and inviting atmosphere.  The finishes and colors showcase a fresh and bright design.  The guest rooms will be constructed with sound-reducing features.  Each room will offer a dedicated workspace and easy-to-use storage.
The amenities of the hotel will include a modern fitness center and breakfast space.
"The ground breaking of the Avid marks our firm's growth to include the Holiday Inn family of brands.  We are excited to add this to our portfolio of Hilton, Marriott and Choice branded hotel developments.  The Monona and greater Madison markets have long been targeted as opportunity areas for us.  We are confident we will compete well in this geography and look forward to continued expansion in Dane county and beyond." – Kraig Sadownikow, President of American Companies
About American Companies
Together, American Companies are a full-service Commercial Design l Build l Develop l Real Estate firm which includes American Construction Services (ACS), American Architectural Group (AAG) and American Commercial Real Estate (ACRE).  Since 1980, ACS and AAG have built a solid reputation through their expertise in construction management, architectural design and structural engineering.  ACRE was added in 2018 to round out their portfolio by offering property sales, leasing, management and investment services.
American Companies are based in West Bend, WI and serves the northern Midwest states.  They specialize in commercial and industrial buildings including hospitality, medical, retail and multi-family facilities.
At American Companies, "Our job is to allow you to do yours."