Allenton, WI – For the third consecutive year, the Allenton American Legion Fohl-Martin Post 483 has reached its financial goal to purchase 700 wreaths to be placed on veterans' headstones in 15 designated cemeteries across Allenton, Slinger, and surrounding community cemeteries.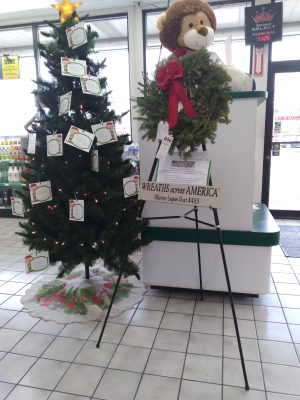 December 18, 2021 will mark the 29th national Wreaths Across America Day. Annually, more than 2 million wreaths are placed across over 2,000 locations in the United States and throughout the world, honoring veterans buried at those gravesites.
In Wisconsin, in a tradition dating to 2012, members of American Legion Riders District 8 have led the effort to raise funds to place wreaths at the Central Wisconsin Veterans Memorial Cemetery in King.
For the third straight year, those fundraising efforts ensured a wreath was placed on every grave at the cemetery through Wreaths Across America.
On Saturday, December 18 starting at 9 a.m. representatives from the Allenton American Legion Post will begin the wreath laying at 15 designated cemeteries in Allenton and Slinger.
The ceremonies include singing of the National Anthem and reciting the Pledge of Allegiance followed by an opening statement.  Each wreath has a dedication card that should be read before placing the wreath on the veteran's grave.
Wreaths can still be purchased for a loved one by picking up an order form at Alma's Café or Romie's BP in Allenton or Schaefer's BP in Slinger.