April 28, 2021 – Washington Co., WI – The Washington County Board will meet at 6 p.m. tonight to pass an ordinance to take over the Silver Lining Amphitheater at Washington County Fair Park and then enter into an agreement with a private organization to run the amphitheater.
Currently the Agricultural and Industrial Society (AIS) runs the Washington County Fair, the fairgrounds and the amphitheater.
Washington County owns the Fair Park.
"This was a unanimous decision by our board and we feel it is a great opportunity for the community," said AIS board member Phil Dahlberg. "This promoter coming in and booking big acts would be a good use of the facility."
Dahlberg said AIS will have access to the amphitheater during the annual County Fair; headliners during that event would be booked by AIS.
"The AIS board was adamant that we would maintain the County Fair at its current level and that we would control it," said Dahlberg. "I believe the relationship with this promoter could go really really well, but we will do everything in our power to maintain control of the Fair Park."
Questioned whether AIS would lose revenue by turning over the amphitheater for the remainder of the year outside of the County Fair, Dahlberg said financially and from a visibility standpoint it would all benefit AIS.
Over the past few years AIS worked to utilize the amphitheater. Some of the new venues included events like Junction 45 featuring rock and roll cover bands like Hairball. There was also the outdoor Fair Eats & Treats featuring vendors serving popular fair food.
Dahlberg clarified, AIS will still be able to put on events including motorcycle races and the like. "We are all going to work together with the incoming promoter even if we are crossing over into the amphitheater area," he said. "There's no reason to wipe out some of these events, but we may need to modify some of the things we do but we think it will be smooth going forward."
It was 2016 when the Silver Lining Amphitheater was donated by West Bend Mutual.
Fair Park executive director Kellie Boone came on board in December of that year and one of her priorities was to make the fairgrounds a year-round facility using the amphitheater to its full potential.
"Kellie and some of the leadership at AIS have done a fantastic job," said Dahlberg.  "If anyone would ever look at their current contract with the County, they've done a great job building up reserves. Their commitment was really highlighted last year because we're in the business of mass gatherings and that helped us survive. If it (the Fair Park) wasn't managed as well as it was, it would have been done…  but we were able to weather that storm."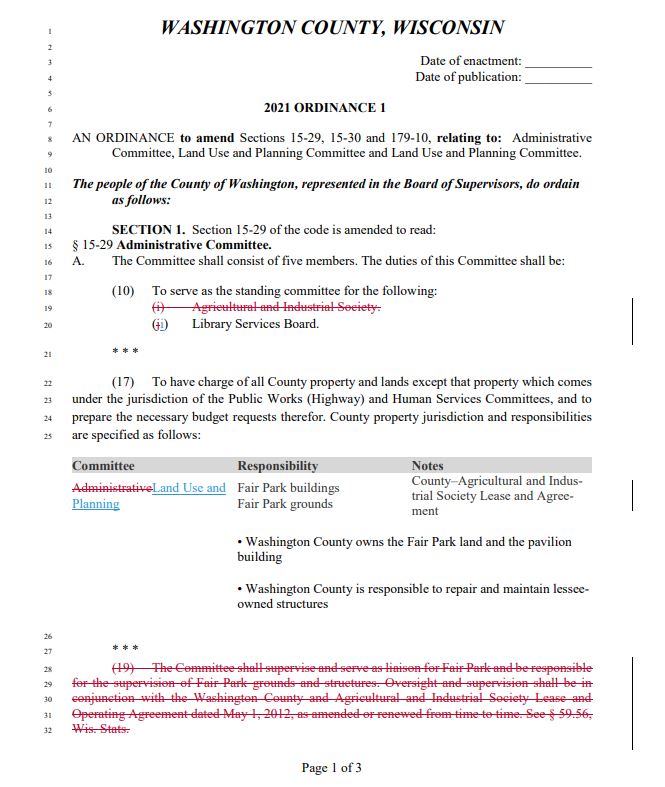 Click HERE for a look at tonight's complete agenda.