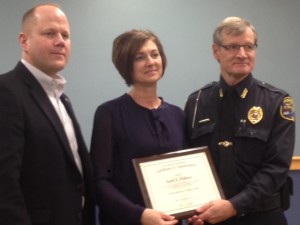 West Bend police and the city of West Bend recognized good citizens in the community this week with certificates of appreciation.
April L. Fellenz was praised for getting involved in a dicey situation regarding an impaired parent driving a child.
On April 8, 2015 April L. Fellenz contacted the Police Department to report she believed a parent picking up a child at Ms. Fellenz's school was impaired.

Ms. Fellenz provided detailed information about the parent and the vehicle. Officers were able to quickly locate the driver who failed field sobriety tests and was arrested for 3rd Offense OWI.
Ms. Fellenz is commended for her actions to help ensure the roadways were safer and the child was removed from harm's