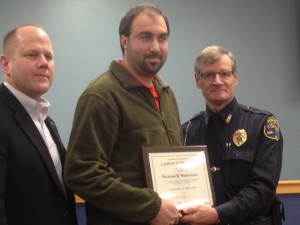 West Bend police and the city of West Bend recognized good citizens in the community this week with certificates of appreciation.
Nicholas R. Weitermann was recognized for saving a woman's life.
On March 25, 2015 Mr. Weitermann tried to check on a friend who had earlier made some suicidal statements. When he was unable to reach the friend by telephone, he went to her home and rang the doorbell.
When no one answered, Mr. Weitermann let himself in, heard a car running in the garage and found the female unresponsive in the vehicle.
Mr. Weitermann turned off the car, opened the garage door, and called 911. The police were able to wake the female and she was taken to St. Joes.
Fire personnel confirmed the carbon monoxide levels in the garage were at very dangerous levels. Mr. Weitermann is commended for his actions which most likely saved the woman's life.