Hartford, WI – The Lutz Family Foundation along with Signicast have generously stepped up to keep Hartford's indoor Aquatic Center serving local residents for another 20 years.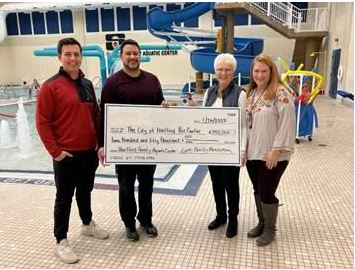 In 2023 the Hartford Parks & Recreation Department Signicast Family Aquatic Center is scheduled for $300,000 worth of capital improvements.
Click HERE to SUBSCRIBE to FREE local news at
These projects include resurfacing of the pools, slide restoration, slide tower design, and new water play feature for the zero-depth area. City staff approached both Signicast and the Lutz Family Foundation for possible donations.
The City is proud to announce that Signicast has donated $50,000 and the Lutz Family Foundation is donating $250,000.
Terry Lutz was the owner of Signicast when the Recreation Center was built in 2000.  At that time, he generously donated $250,000 towards the construction of the indoor pool in the name of his company, Signicast.
Terry has always been great supporter of Hartford especially with recreation services in the community. When the initial donation for the indoor aquatic center was made, he vowed that he would always be there should future pool improvements be needed. "My dad would be honored to be a part of this" said Wendy Dulak, daughter of Terry Lutz.
"Our team feels very fortunate to work in a community with such great support" said Randy Wojtasiak, Parks & Recreation Director. "Without the vision and desire by both Signicast and the Lutz Family Foundation to make Hartford a great community to live and play in, it would be difficult to proceed with this project. These funds are needed to keep the pool operational for decades to come. The new water feature will be a very welcome transformation, adding new fun, especially for our young swimmers."
The soon to be remodeled aquatic center serves over 32,000 swimmers and aquatic therapy benefactors every year.
With these financial commitments, the Lutz Family Foundation was given the naming rights to the facility.  They have asked it to be called The Hartford Family Aquatic Center Sponsored by The Lutz Family Foundation.  Signicast will also be given prominent recognition for their generous support.
City staff will be working with contractors and hope to have the project starting mid to late summer to be ready for the winter indoor swimming season.