February 8, 2023 – Washington Co., Wi – The Washington County Board came out of a 37-minute closed session at the start of its meeting Wednesday night, February 8, 2023, and voted to not rezone a section of CTH K and CTH E. That area had been designated for consideration of a proposed Chapter 980 placement.
Supervisor Jeff Millikin proposed permanently postponing Ordinance 8. The motion was seconded by Supervisor Brian Krebs. Ordinance 8: To Amend the Shoreland, Wetland and Floodplain Zoning Maps established and maintained pursuant to Section(s) 275-3, 275-12, 275-14 and 275-22 of the Code.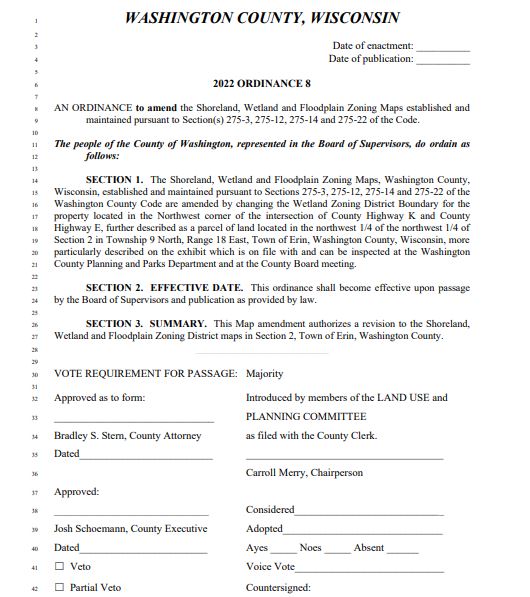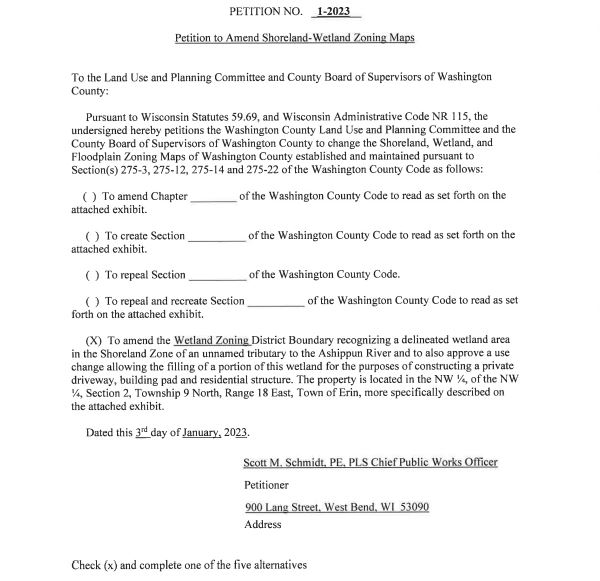 The Chapter 980 placement involved creating a space to potentially house a violent sex offender. Below is a statement from Sheriff Martin Schulteis.
"Counties all over the state struggle with the release of sexual offenders into our communities.  Under Wisconsin Chapter 980, a civil commitment procedure exists, and is primarily intended, to provide treatment to the offender and protect the public. The process occurs when a circuit court judge declares someone a sexually violent person and he/she is placed into a treatment facility. When a judge decides a person declared to be sexually violent meets the criteria for release, the person must be placed into his/her home county.  This original domicile provision is in state law and mandates that the person be returned to their home county."
Click HERE to SUBSCRIBE to FREE local news at
Neighbors from the Town of Erin packed the county board chambers, some holding signs encouraging a 'No' vote. In a past public hearing before the county Land Use & Planning Committee, neighbors pleaded with supervisors to understand their concern for safety and their children should a violent sex offender be placed in their community.
Town of Erin taxpayers were also proactive in their efforts against the paving of the wetland, creating a septic system, and placing a trailer on the site to potentially house a violent sex offender.
On January 30 and 31 a notice of claim was filed by a group from the Town of Erin to sue Washington County for a possible "violation of the federal Clean Water Act" and violations of  "state and local ordinances."
Click HERE to read the entire claim in the suit vs. Washington County
After the county board voted unanimously Wednesday night, a cheer erupted from the audience as well as some fist pumping as the county attorney stated, if the board voted against the ordinance change then the "Chapter 980 placement dies."
Click

HERE

to read about Eric J. Dahl who has been deemed a

'violent sex offender' 
Calls are being placed to the county attorney to determine how the county will pursue placement of Eric J. Dahl under Chapter 980 placement in Washington County.
UPDATE: Watch for a meeting to be called for the Chapter 980 Committee.