March 22, 2020 – Slinger, WI – Archbishop Jerome Listecki consecrated the parishes of Dodge/Washington Deanery to St. Joseph as Protector of the Church this week. Listecki visited St. Peter Parish in Slinger.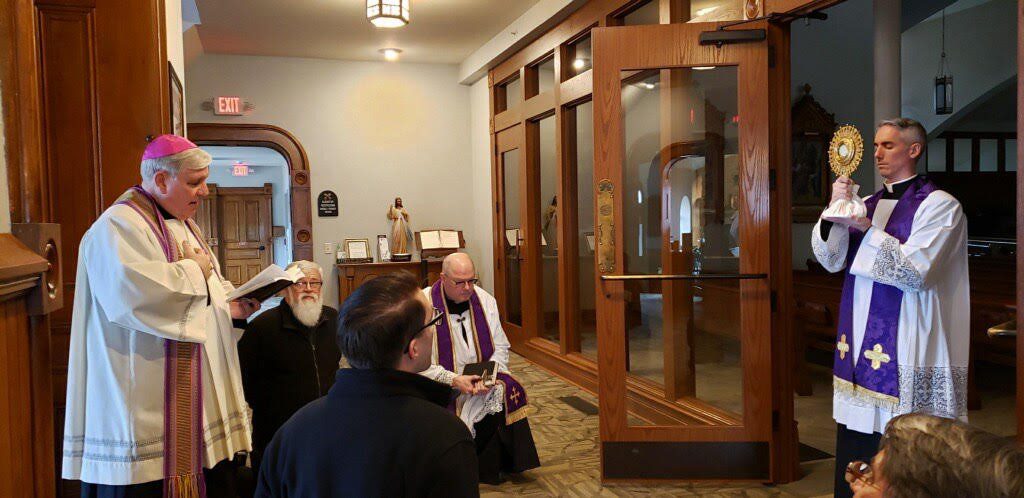 In these challenging times, when the Church cannot gather for worship, Archbishop Listecki wishes to make it clear to the Church and to the world that prayer remains effective and God's power is unsurpassable, despite prudent efforts to slow the spread of CoVID-19.
As the local shepherd of the flock, Archbishop Listecki will go out to the entire Archdiocese of Milwaukee to formally lift up the Church in prayer. Through his witness to prayer and God's care for His people, Archbishop Listecki invites everyone to deepen their confidence in Divine protection and blessing.
Upon leaving the Cathedral, the Archbishop will travel with the Blessed Sacrament in procession to one parish in each of the 11 deaneries of the archdiocese. He will bless the deanery and its people to communicate the reality that Jesus Christ abides in our midst in the Eucharist and is true to His promise: "Behold, I will be with you until the end of the age" (Matthew 28:20).