Jan. 7, 2017 – Town of Trenton, WI – Much has been written about the demise of TV. Nobody watches anymore…blah, blah, blah. It's not true. In fact, there are many in the business that say TV is experiencing a renaissance of sorts.
Quality dramas on both network and cable; yes, the days of 50 million people tuning in to see who shot JR Ewing may be in the rear-view mirror but there are still a bunch of water-cooler programs out there.
What were the top shows of 2016?  The shows you think had the best year in 2016, at least in terms of ratings?
Much has been written about "The Walking Dead's" decline in Season 7, and its drop-off after a huge season premiere was real and significant. But it was still far and away the No. 1 show among adults 18-49 in 2016, and among the Top 5 in total viewers.
Broadcast TV shows dominate both the 18-49 and viewer lists below. Cable and streaming shows are dominant in terms of awards and cultural cachet, but the shows watched the most are overwhelmingly on network TV. (Cable shows fare a little better in the 18-49 rankings, with three of the Top 10 spots; only "The Walking Dead" lands in the Top 20 in viewers.)
"The Big Bang Theory" was the most-watched series of the year at just under 20 million viewers. (Some of you may think I'm weird but I have never caught on to this show. Never watched even one episode.) Other CBS shows ("NCIS," "Bull" and "NCIS: New Orleans") make up four of the Top 5.
Here are the 20 highest-rated and most-watched shows (excluding live sports) for the calendar year 2016 — which means parts of two TV seasons for most shows. That is one thing I hate about how TV has evolved. We used to get 22 episodes in a season, all run basically in a row for 22 weeks. Then they reran them over the summer in reruns. Now we get "fall finales" and have to wait a month or two before series resume. New seasons start throughout the year, not just in September.
All the averages below (with a couple of exceptions, noted with asterisks) include live viewing plus seven days of DVR and on-demand playback, and are for original telecasts only.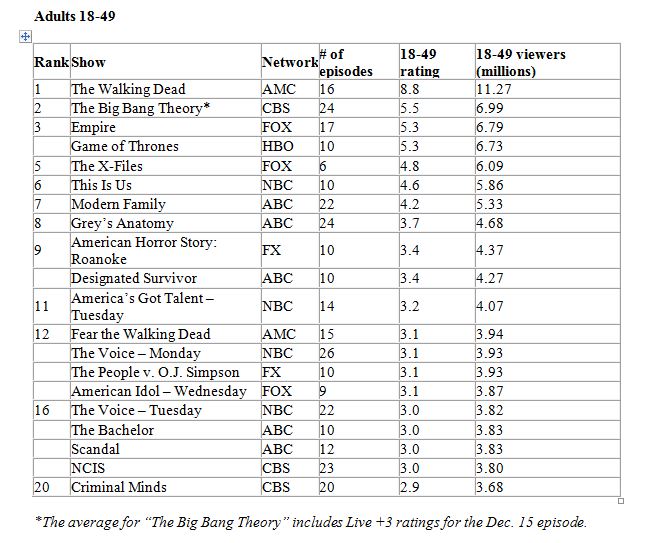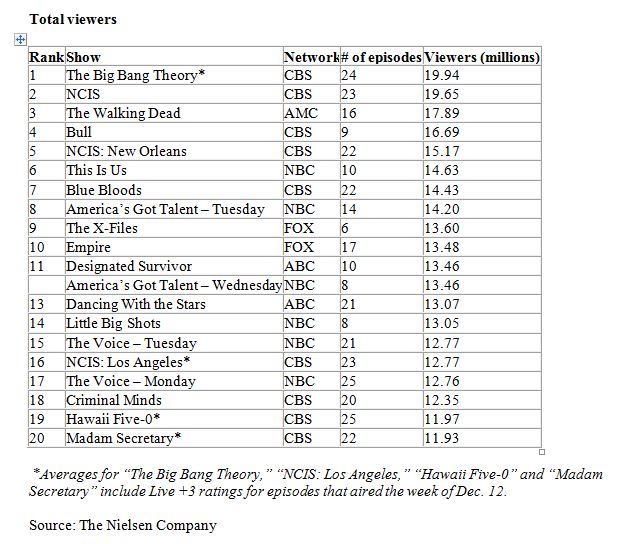 Photo courtesy Prairie-Typepad