August 10, 2019 – Washington Co., WI – Washington County Deputies arrested a pair of men Friday afternoon, Aug. 9, 2019, who are likely responsible for a series of Wisconsin bank robberies over the past several months, including the April 8 robbery of the National Exchange Bank in Allenton.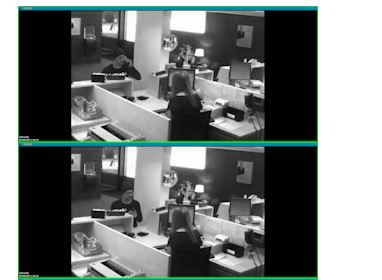 Sheriff's office investigators and deputies have been relentlessly examining leads and working with other jurisdictions since the Town of Addison robbery to develop suspects.
Friday afternoon at about 12 p.m., Washington County Sheriff investigators were working collaboratively with another jurisdictions to locate two known subjects in the City of Waupun. At the same time, Sheboygan County Sheriff's Office put out a bank robbery alert for a National Exchange Bank in Glenbeulah.
Washington County investigators quickly contacted Sheboygan County authorities and determined the armed gunman matched the physical description of the individual from at least two other bank robberies.
Through the ongoing investigation, Washington County investigators believed it was likely that the suspects would eventually return to Waupun from Milwaukee.
According to Washington County Sheriff Martin R. Schulteis, "Our investigators worked seamlessly with the patrol division to coordinate a saturation of the likely escape routes. We also developed contingency plans if these dangerous felons had decided to flee. I am extremely proud of all of our staff, as well as the collaborative efforts put forth by multiple agencies, to hold these dangerous individuals accountable. I want the bank tellers to know the clearance of this case was the highest priority for your sheriff's office."
At about 2:13 p.m., Washington County Sheriff's Deputies spotted the suspect vehicle, occupied by two individuals, near the I41 and US45 split. A high-risk traffic stop was done on STH 60 just east of I41 which closed portions of the roadway for about 15 minutes. Both Waupun men, ages 36 and 35, were arrested with evidence linking them to multiple robberies as well as crack cocaine. Both individuals were ultimately turned over to the Sheboygan County Sheriff's Office.
Sheriff Schulteis indicated the investigation continues and charges for the Allenton robbery will be forthcoming. He also wanted the public to know the sheriff's office is not looking for any other suspects related to the Allenton robbery.