Around the Bend: Updates & tidbits by Judy Steffes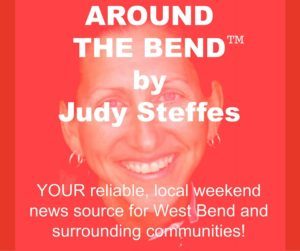 –The Governor of Wisconsin has ordered U.S. flags to fly at half-staff as a mark of respect for Staff Sergeant Matthew V. Thompson who lost his life while serving his country.
– West Bend West Junior Spartans basketball tryouts are Sept. 12, 13 and 14 in the West Bend High School gym.
– Saturday, Sept. 10 at Jackson Park, pets and their human companions are invited to join the Paws for Pets walk to raise money for the Washington County Humane Society. All animal lovers are invited…with or without a pet!   The 1.5-mile or 2.5-mile walk.
– Officials in Hartford released the name of the woman who suffered a medical emergency at the Veterans Memorial Aquatic Center on August 19.  City Administrator Steve Volkert said Michelle Centell, 47, was the woman who was taken to the hospital after being found in 3-feet of water. Centell's funeral was August 26 in New Berlin.
-Wisconsin's largest gluten-free food expo is coming to Washington County Fair Park on Saturday, Sept. 24. The event is sponsored by Wellness Found Organic Foods. Tickets are $7.
-The 21st annual Boltonville Fire Department Street Dance is Saturday, Sept. 10 featuring Rebel Grace.
-There are informational meetings next month for the Kewaskum School District referendum project. The Nov. 8 referendum is for $28.4 million. With interest total cost is close to $40 million.
– Badger Masonry & Fireplace Supply, 545 N. Main Street will hold grand opening Sept. 16 – 17. The store is located in the former Tennies Buick building. The office phone number is 262-343-8580.
– Halloween Express is expected to open this weekend as it makes its home at the former Walgreens on Decorah and S. Main Street in West Bend.  Halloween Express secured its lease until Nov. 2 through Adam Williquette at Anderson Commercial Group.
– Early Farm Days in Kewaskum is Sunday, Sept. 11 at River Hill Park.
– DIVA night is on tap Thursday, Sept. 15 in downtown West Bend and Barton.