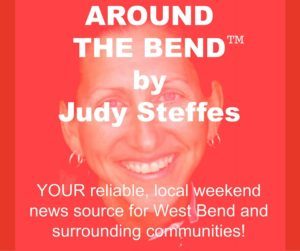 March 20, 2017 – Washington Co., WI -In-person absentee voting for the April 4 Spring Election begins Monday, March 20 in Washington County. In-person voting runs through Friday, March 31. Some of the races on the ballot include State School Superintendent, Circuit Court Judge Branch 3, and school board races in Kewaskum, West Bend, and Hartford Joint #1.
–The Downtown West Bend ArtWalk is Saturday May 13 from 4 p.m. – 7 p.m. at the Museum of Wisconsin Art. The event will feature free admission to MOWA and a silent auction of banners. The banners by local artists hang along Main Street and Sixth Avenue creating an outdoor gallery from May through October.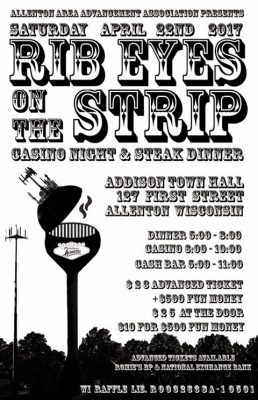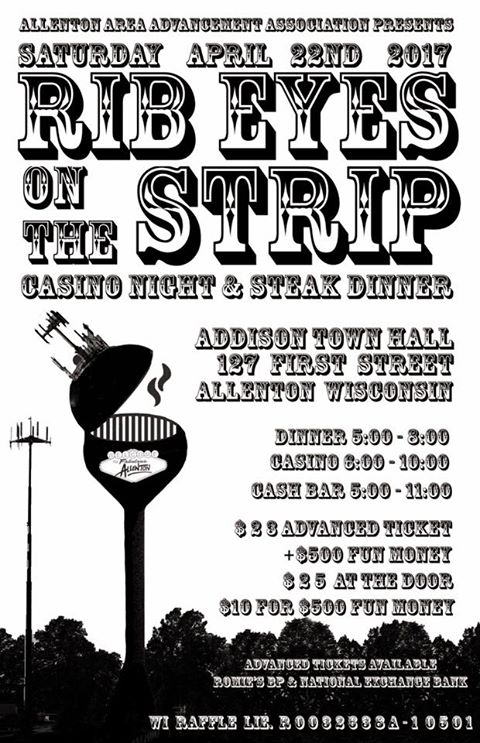 –The Allenton Buffalo Feed has been modernized! Come out for a steak dinner on Saturday, April 22 and do some gambling in the casino.
Who would have ever thought…gambling in Allenton!
The evening is being presented by the Allenton Area Advancement Association.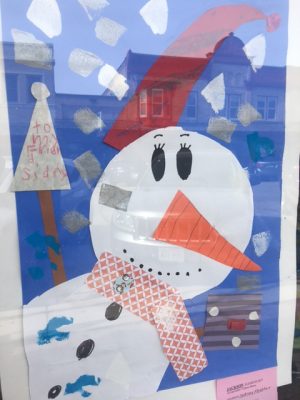 –March is Youth Art Month and the West Bend School District has its Mile of Art on display in downtown West Bend.
This is the 15th year for the exhibit, according to Decorah Elementary School art teacher Mickiah Wolff.
-Free Easter dinner at the West Bend Moose Lodge on Sunday, April 16. Please call to make reservations, 262-338-8122.
-On Monday, March 6 a ceremony was held as Russ Darrow broke ground on his new Nissan dealership on Highway 33. Within a short 7 days contractors have cleared the land to make way for construction of a new 24,449-square-foot dealership.
-Tickets are on sale for the 22nd Annual Newburg Lions Big Raffle. The Grand Prize is $5,000. There will only be 500 tickets sold. There will be five $100 "Early Bird" drawings from April – August. Drawing will be held Saturday Sept.9 at 1 p.m. at the Newburg Fire Department. Everyone is welcome to attend. All profits go to local charities. Tickets are $50 a piece. For tickets contact any Newburg Lions member or call 262-338-0432
– The West Bend Korean War Veterans Post 111 will be hosting a brat fry on Friday and Saturday, April 7 and 8 at 1421 W. Washington Street, from 9 a.m. to 4 p.m.  Proceeds will go to the Honor Flight Program, The National Flag Day Foundations and other veterans' programs.
-The city of West Bend will be hosting Loyalty Day in 2017.  The event will feature a parade Saturday, April 29.  Loyalty Day is observed nationally. All VFW Posts are invited to take part.
-The 30th annual Washington County Breakfast on the Farm is Saturday, June 10 at the Golden 'E' Dairy Farm on 8262 Orchard Valley Road, in the Town of Farmington.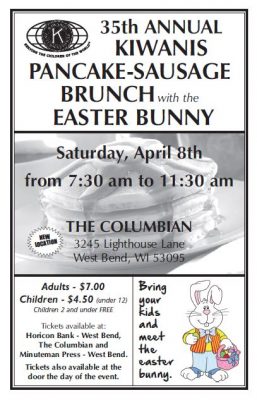 -Make your Easter plans early and come out to The Columbian on Saturday, April 18 for the 35th annual Kiwanis pancake-sausage brunch with the Easter Bunny.
Tickets are available at Horicon Bank in West Bend, The Columbian and Minuteman Press.