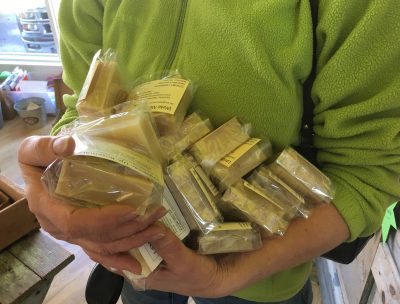 March 20, 2017 – West Bend, WI – Century Farmhouse Notes: How to care for that stash of Century Farmhouse soaps
In which you will get strict instructions about making your stash of Century Farmhouse soaps last and last and last….
You heard that Century Farmhouse was no longer going to produce soaps. OH MY! You hurried to the shop or quickly placed an order online. That armload of soaps weighed you down, but now how to make the most of those soaps?
Since I made those soaps, I can help you make them last!
How to store and frugally use the last – collector's items! – soaps from Century Farmhouse:
Set down that plastic bag and back away slowly. I mean it! DO NOT EVER store a handcrafted soap of any kind in plastic. It is true that we packaged the soap in cellophane, but you may have noticed the little holes on the bottom sides of that cello bag? They aren't just for smelling the soap, you know.
Even after curing, a handcrafted soap will continue to dehydrate over time to become an extremely hard bar. If it is packed in a container that does not allow air flow, it will become wet and will eventually grow mold. Airtight packaging will not preserve a soap's scent, it will just cause it to get really gross. Let it get air! Keep it in the original packaging and store it in the linen closet, in a pretty bowl, or in your dresser drawer with your unmentionables. The soap will share its scent with its surroundings and will last longer for you when you do use it.
That is a pretty big bar of soap we cut for you! One way to make it last a little longer is to cut it in half so the whole bar isn't sitting in a wet environment like your shower. The size will be a little easier to handle too.
When you aren't actually using the soap to wash your hands or bathe, dry it on a cloth, or set it on a piece of luffa, or keep it in a soap dish that will allow air to flow around it as it dries. A handcrafted soap such as ours has a higher moisture content than milled soap and will melt away quickly if it sits in a puddle. If your little ones don't listen and let the soap play submarine in the bath, have them call me and I'll be happy to teach them how to care for it!
It is as easy as 1-2-3 to care for your precious stash of soap, and I hope you are able to enjoy the soaps for many months to come. If you have any questions about the soaps or about caring for them, please feel free to contact me at any time via the website: www.centuryfarmhouse.com or directly via email: [email protected].
See us this summer at the West Bend Farmers' Market on June 17, July 1, and July 29!
Enjoy the soaps!  -Ann Marie