April 6, 2019 — The Kettle Moraine chapter of the Experimental Aircraft Association announces the availability of a flight training scholarship for young adults ages 15 – 19.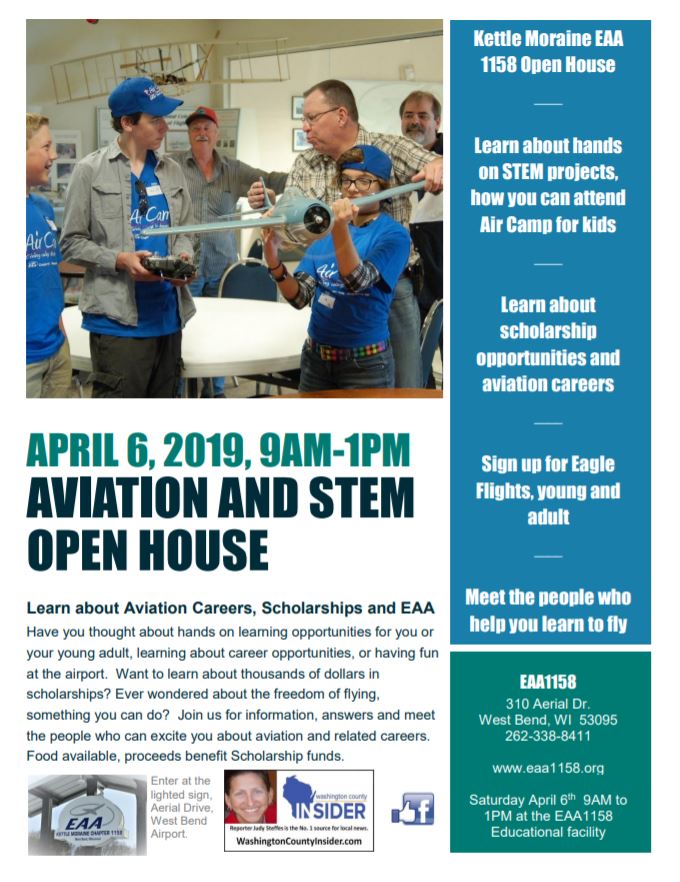 Up to $10,000 will be awarded to an interested local candidate who is considering an aviation career and who is committed to flight training in the West Bend area.
The Ray Aviation Scholars program, administered by EAA, provides up to $10,000 in scholarships to young people who are seeking to learn to fly. The Ray Foundation seeks to improve the flight training success rate and assist young people in their interests in aviation.
The Ray Foundation is furthering the legacy of James Ray, an EAA lifetime member who was dedicated to aviation and youth education. The initiative is designed to help meet the tremendous future demand for pilots and associated aviation careers.
Interested young adults and parents should attend an open house Saturday, April 6 from 9 a.m. – 1 p.m. at the Kettle Moraine EAA Educational Facility, 310 Aerial Drive at the West Bend Airport to learn about the scholarship opportunity and other programs available for youth.
The local EAA chapter also hosts a week long camp for youths ages 12-19 that features hands on STEM and aviation activities.
This year's event runs from June 17-24.  For more information, come to EAA open house on April 6 or call 262 338 – 8411.