Barn Fire Town of Addison  | Photo courtesy Ron Naab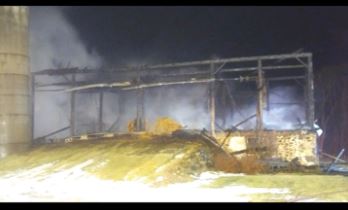 Dec. 22, 2017 – On Friday, Dec. 22 2017 at approximately 4:15 a.m. the Washington County Sheriff's Office was notified of a small barn fire located at 5828 CTH W in the Town of Addison.
The 911 caller was a passerby who noticed smoke and flames coming from an old milk parlor which was located next to the main barn on the property. After calling 911, the caller stopped his car and woke up the property owner. The Allenton Fire Department was dispatched to the scene along with sheriff's deputies.
Within moments of the first arriving deputy, the fire jumped from the old milking parlor to the main barn. That barn quickly became fully engulfed with flames. The fire also caused smoke and heat damage to a 3 car metal pole barn located next to the main barn as well as the residential three car garage. The milk parlor as well as the main barn were total losses.  The barn was used for storage.  The contents of the metal pole barn were saved.
The Allenton Fire Department was assisted by the Hartford, Iron Ridge, Slinger, St. Lawrence, Theresa, West Bend, and Woodland Fire Departments.
Traffic on CTH W was shut down for 2 hours while firefighters battled the blaze. The cause of the fire is believed to be electrical in nature.  There was a heat lamp as well as heated water dish in the milking parlor for the homeowner's cats in the area where the fire started.  There were no injuries as a result of the fire.