Town of Wayne, WI – There was a big celebration in December 2015 as folks packed CC's Place in Wayne to wish Barney Strobel a happy 90th birthday.
Fast forward six years and Barney now has 6 more candles on his cake. Read the tribute to Strobel below from 2015.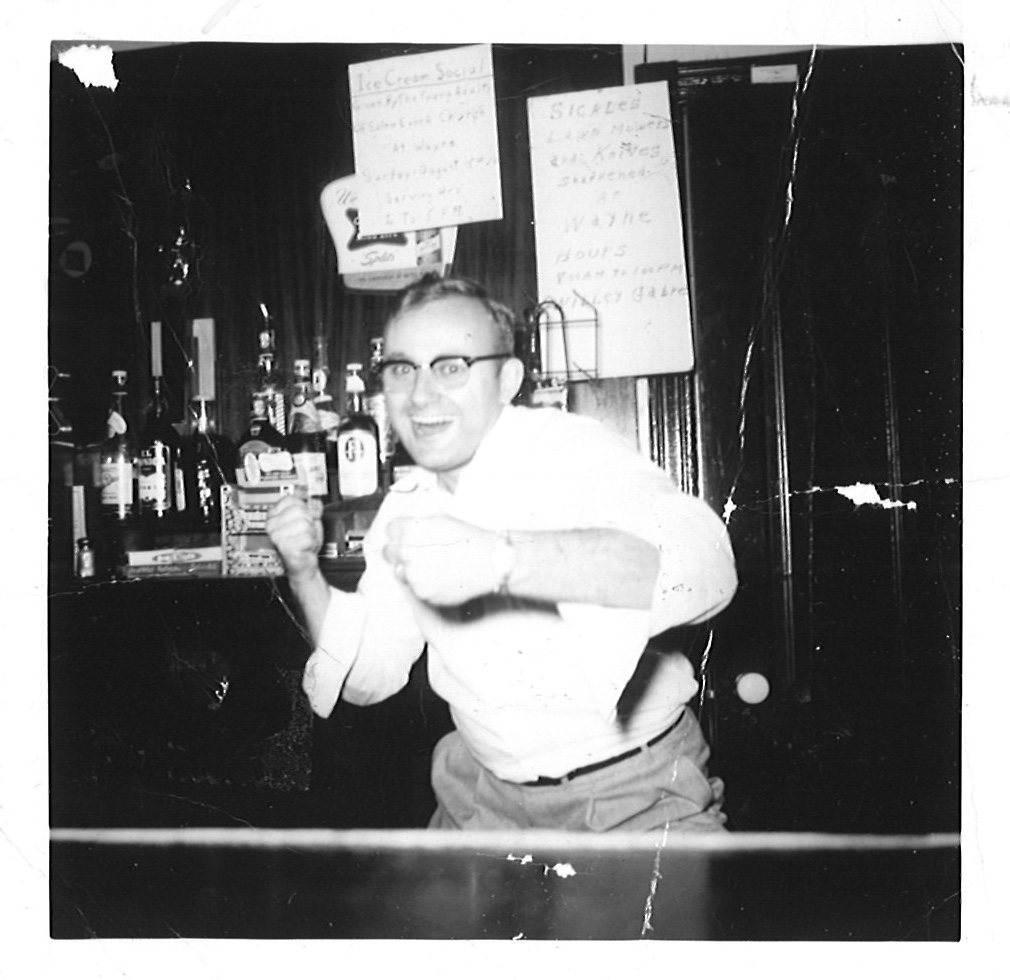 Strobel had been a fixture in the tavern business since 1949. His personality is a bit of a mix of the cast of the Honeymooners meets comedian Don Rickles.
Growing up a farm boy who lived in a self-proclaimed bachelor pad with his uncle, his dad and his brother, Strobel was set to get married and needed to find a place of his own. "My dad wouldn't spend the money to get a decent floor in the house for a lady, so I went into town for a haircut, stopped at the bar and asked the bartender if there he knew of a place."
The bartender at Karnitz's Inn said he could rent the tavern for $75 a month. "I asked my dad for money, and he said, 'no way.' Then the owner of the tavern said I could have all his stock behind the bar for $1,500," said Strobel.
In an effort to find some fast cash Strobel sold a couple of heifer calves to his brother for $200, then went to the bank in Campbellsport for a loan, got married Sept. 3, 1949. His first day in business behind the bar was Sept. 16, 1949.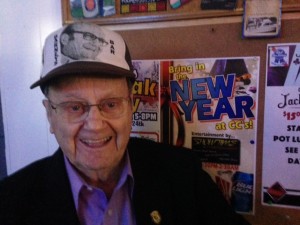 "I was open when church let out and the bar was so full it was unbelievable," he said. "By noon I had to hire two people to help me, and I took in $200 on nickel beers."
Strobel said back in 1949 you could get 21 mugs of beer for $1, and whiskey was 20 cents.
"We had 10-ounce mugs and I only served West Bend Lithia," he said. "The next morning, I got up and had money in every pocket."
Strobel was born Dec. 5, 1925, at his home in the Town of Ashford. He lived on a farm in St. Kilian. Went to a little farm school and completed the sixth grade before he dropped out.
"I couldn't stand it," he said. "My dad told me if you don't want to go to school then work the farm."
Strobel worked alongside his dad until June 8, 1945, when he was drafted at 19. When he returned home, he bought the bar in Wayne.
"I called in Barney's," he said. "I stayed there for two and a half years and then Schneider's Bar run by Al Schneider came up for sale in 1952; it was listed at $16,500 and I made the move."
Strobel stayed in business from 1949 – 1989. "My secret was good clean livin'," he said. "I never drank any beer and I never smoked." Strobel's drink of choice, "Canadian whiskey and a lot of water."
Strobel opened at 8 a.m. and worked until 1 a.m. "All by myself; long hours but we made it," he said.
Back in the day there was a bit more life in the Town of Wayne. There was Petri's neighborhood grocery, a cheese factory and creamery, a blacksmith's shop, an Oliver dealer at the top of the hill, barber shop, and a feed mill.
"We had Jimmy Gantner from the Brewers stop at the bar," said Strobel, when questioned if he ever served anybody famous. "Rev. Groppi came in once. I think he went to the grocery across the street and then had to use the bathroom, so he came here."
The most famous person had to be the local legend Cal Bowe. "He brought three big horses in here," Strobel said.
Cal Bowe had a long history of spoiling his horses. He rode his horse into the bank in downtown West Bend. Locals say he even took his horse swimming at the indoor pool at the Holiday Inn in West Bend, currently Pick 'N Save north.
"Cal came up to me and said, 'Barney it's raining outside and I gotta bring the horses in.' I told him no and then he said he'd buy a drink for the house so in they came."
"Lot of beers have been poured here," said Myron Strobel. "You have to remember he opened at 8 a.m. The old farmers would come to town for feed, have a beer and then go home."
Former Kewaskum Police Chief Dick Knoebel worked for 7UP when he was in college in 1969. "I'd deliver to Barney here and he had a really low dirt basement; you'd almost hit your head every time," he said.
Asked to qualify Strobel's success and Knoebel puts it simply, "He's friendly to everybody and treats everybody well and that's what it's all about."
After 40 years behind the bar, Strobel retired. "I just made up my mind 40 years was enough."
Sharp and fit Strobel hasn't seen the doctor in years, he claims it's because he's "outlived them all."
Looking back on the decades in the bar business, Strobel admits it was tough. Married three times he said he ate all his dinners, every night at the bar. "My first wife passed away early but I've got Joanie and she's the love of my life," he said.
In retirement Strobel is back to his old habits. "I'm tending bar at the Fifth Quarter in Kewaskum," he said. "My wife just died and I work Monday, Wednesday and Friday 2 p.m. – 6 p.m."
Eric Anderson has owned the Fifth Quarter, 1257 Fond du Lac Ave., Kewaskum, for eight years. "Barney was working at the bar when I took it over and he asked me about staying and I said every Monday, Wednesday and Friday you can work as much as you want and he's been here ever since," he said. "He was going to retire when he turned 90 and he said I gotta keep working."
Strobel brings in a huge Monday night crowd. "Barney knows your name, he can remember years ago, he's sharper than a whip and he's got the personality that just draws people in," said Anderson.