Breaking through Bureaucracy in Washington Co.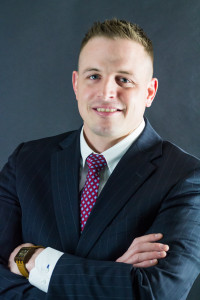 Joshua (Josh) Schoemann, Washington County Administrator: Since being hired as County Administrator in October 2013, the County Team has had some incredible accomplishments.
Reduction of the County Board's size from 30 to 26 Supervisors, creation of a regional health department with Ozaukee County and a major intergovernmental agreement with the City of West Bend, just to name a few. In addition, as of your current tax bill the County's property tax rate now sits at its lowest point in roughly ½ century, the County collects its lowest amount of taxes in a dozen years and the County's debt per capita is the lowest in ¼ century.
Still, in the words of Frank Sinatra, I am confident that "The best is yet to come!"
– Meet Joshua Schoemann, Washington County Administrator "Breaking through Bureaucracy"
I am titling this column "Breaking through Bureaucracy" because I view it as my opportunity to share the inner workings of Washington County government, challenges we are facing, opportunities that lie ahead and successes we are achieving. Bureaucracy (which I am of course a part of) is often a four letter word for citizens and businesses, frequently associated with "government red tape" and hurdles, not communication and transparency.
As County Administrator, one of my primary goals is to communicate and implement the vision of your County Board Supervisors, a task that proves difficult at times and can be especially difficult if we lack direction—a problem facing most units of government. Despite the challenge, I hope this column can cut through that red tape, jump those hurdles and break through bureaucracy. Let's begin the break through…
During 2015, we set out to clearly define the vision and priorities of the County Board. For too long we have talked about "doing more with less", trying to "be all things to all people." The fact is, given the limited resources of our citizens, and thus our County, we can't "be all things to all people" and we are past the point of "doing more with less". Rather than doing the same thing over and over and expecting a different outcome, we decided that we need to set clear priorities for the organization, being less concerned about the quantity of services we provide and more concerned about the quality of those services.
Not surprisingly, as we began to dialogue about why Washington County government is in business and how to standardize the language regarding our existence, our priorities became increasingly clear and an overwhelming agreed upon.
• Provide a safe and secure community (County);
• Provide for effective mobility and reliable infrastructure;
• Provide access to basic physical, behavioral and socio-economic needs; and
• Provide opportunities for economic growth and vitality;
• Provide a well governed and administered County.
In upcoming columns, I will further define and break down these priorities and how we are (or are not) achieving them. The point, however, is that in order to break through bureaucracy, we need to remain focused on where we are going and that it is possible to get there, despite the hurdles we will face. In the words of the late, great Yogi Berra, "If you don't know where you are going, you'll end up someplace else." Thanks to the hard work of our County Board and Department Heads, not only do we know where we are going, I believe we will get there in a way that will cut through red tape, jump hurdles and break through bureaucracy.
I truly hope you all had a fantastic Christmas season and look forward to 2016 with the same level of optimism and excitement that I do!
Column No. 2 –Living Life Debt Free? – A Well Administered County