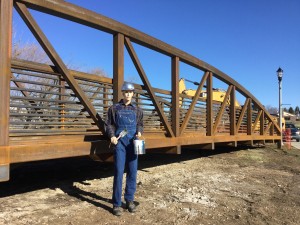 Some neighbors from the Museum of Wisconsin Art have been keeping a watchful eye on the new pedestrian bridge as it waits for contractors. There was a little excitement today as calls were made to authorities about a random man with a paint brush apparently pulling a Tom Sawyer.
When authorities arrived, they found it was just Hank. He had some spare time on his hands and thought he'd tackle the project on a Sunday afternoon.
The 84-foot steel truss bridge was brought in with much fanfare on Thursday. It 32,000-pound bridge was lifted off the truck and left after contractors discovered the deal with the city called for a white bridge. Contractors have until the end of May to make right.
Build. Boost & Buy in Barton  – – Shop these local businesses

          Wisconsin House Woodworks 
          Albiero Plumbing Master Electric