February 3, 2021 – West Bend, WI – As the regular high school basketball season comes to a close, teams across the state are fighting for honor and momentum to carry into regional play and hopefully beyond.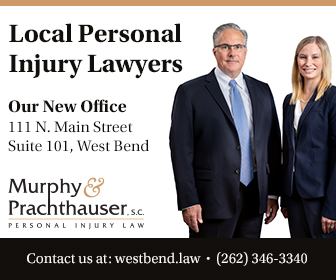 The game Tuesday night was definitely one with some intrigue, not just as a North Shore Conference game, but also because Port Washington entered the game winless on the season.

To their credit the West Bend West Spartans did not overlook their competition, as most aspects of their game, most notably passing and ball movement were extremely dialed in.

The Pirates did put on a valiant effort, but a hesitation to close shooting gaps on defense, a lack of creating open shots on offense, and just poor shooting in general meant it was going to an uphill battle all night.

The Spartans would go into halftime up 35-19, but credit to the Pirates, although their aforementioned issues still lingered in the second half, each team came out to score 21 more points.


The final score saw the Spartans beat the Pirates 56-40. 

The truly big story came when West Bend West senior Aaron Tennies broke the boys' basketball scoring record, held previously by Ryan Wietor. Tennies finished the game with 17 points and said it definitely is an honor to break the record, while noting his connection to Wietor.

"He was my gym teacher freshman year and is the uncle of one of my good friends."

In terms of personal goals for the season, Tennies said he has placed a greater focus on "getting 10 wins and a home playoff game" rather than individual accolades.      
Spartans head coach Ryan Matenaer spoke of Tennies's drive both on and off the court.
"He is a natural competitor, the most competitive guy on our team, in the classroom he's a near 4.0 (GPA) kid and any time he loses even a drill (in practice) he takes it personally. He's always driving to make not just himself but the team better."

That mentality of Tennies as described by his coach, also seems to echo a statement from the previous record holder Ryan Wietor, who said "although I (Wietor) experienced much athletic success at the collegiate level, there wasn't a whole lot that compared to competing for my school and my town."
West Bend West plays its next game at Slinger on Friday, February 5 at 7:15 p.m.
Port Washington's next game is at home against Cedarburg on Friday at 7:15 p.m.