December 17, 2019 – West Bend, WI – Candidacy papers are starting to fly as political deadlines near in Washington County.
In the City of West Bend former Jackson Police Chief Jed Dolnick filed candidacy papers on Monday, Dec. 16 to run for 5th District Alderman.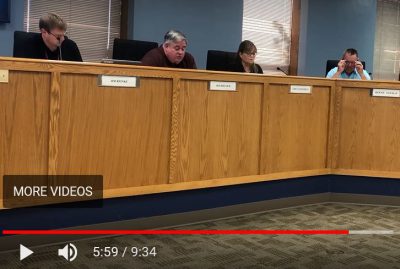 The seat is currently held by Rich Kasten, however he filed non-candidacy for that aldermanic district on Dec. 2, 2019. Kasten was also first to file candidacy to run for mayor of West Bend.
Dolnick has experience on the council, he served as the 6th District Alderman from 1981-1985 and the 5th District Alderman from 1998-2002.
Each time Dolnick chose to step down after two terms.
Dolnick was also a citizen member of the West Bend Plan Commission from 1988-1998 and he's been currently serving on the Plan Commission since 2003.
Dolnick retired as Jackson Police Chief in 2018. He had been Chief since 2001 and prior to that worked at the Washington County Sheriff's Department.
Dolnick is also a former part-time radio newsman at WBKV in West Bend.
There will also be a new look to the West Bend Common Council as Dist. 3 alderman Andrew Chevalier turned in his non-candidacy papers. Chevalier followed in his father's footsteps and was elected to the council in April 2018. Chevalier beat Justin Reichert to win the seat.
Chevalier submitted his non-candidacy papers on Dec. 11, 2019.
Candidates running for Washington County Board, county executive, alderman and mayor have until Jan. 7, 2020 at 5 p.m. to turn in required signatures to get on the April 2020 ballot.
Aldermen need to collect between 20 – 40 signatures and mayoral candidates needs to collect 200 – 400 signatures.
As of Monday, Dec. 16, Dist. 1 alderman John Butschlick has been the first incumbent on the West Bend Common Council to submit 39 signatures.
Candidates running for Washington County Board Supervisor must submit 50 -100 signatures and candidates running for County Executive must submit 500 – 1000 signatures.
Candidates have until December 27, 2019 by 5 p.m. to file a certificate of non-candidacy if they do not plan to run in April 2020.
Click
HERE
for updates on other political races in Washington County.