Possible new tenant for former Fleet Farm in West Bend
December 17, 2019 – West Bend, WI – Neighbors in the area of Highway 33 and 18th Avenue in West Bend have received notification from the City of West Bend regarding an upcoming public hearing. See the notice below.
The notification  ties to a request for a conditional use permit for 3.2 acres of land at 1637 and 1613 W. Washington Street; that's the former home of the old Fleet Farm in West Bend.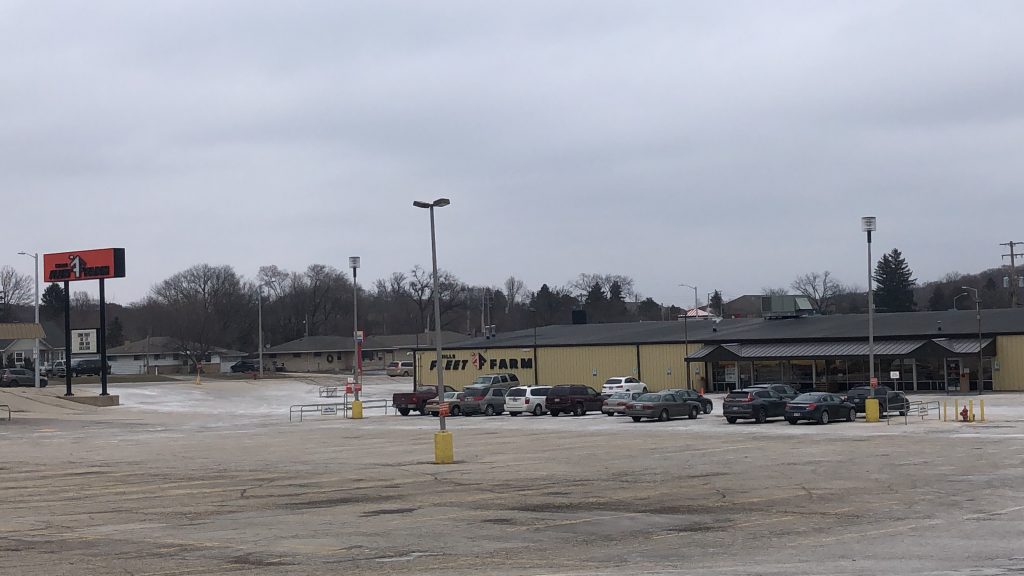 The old Fleet Farm closed Nov. 17, 2019 when the new Fleet opened up the street, 3815 W. Washington Street.
The building at 1637 W. Washington Street has been listed for sale and priced at $3,250,000 for the 49,680-square-foot parcel.
The application for the parcel and the conditional use permit was made by Kwik Trip, Inc. 
District 6 alderman Steve Hoogester is currently acting mayor in West Bend. He also is heading up the West Bend Plan Commission.
News about the notice being sent was something Hoogester said he was unaware of.
"I know there have been rumors about Kwik Trip going in there but all I know is it's up for sale," said Hoogester. "Obviously, the sooner we get something in there the better but we're going to have to figure out what will work with the traffic flow in that area."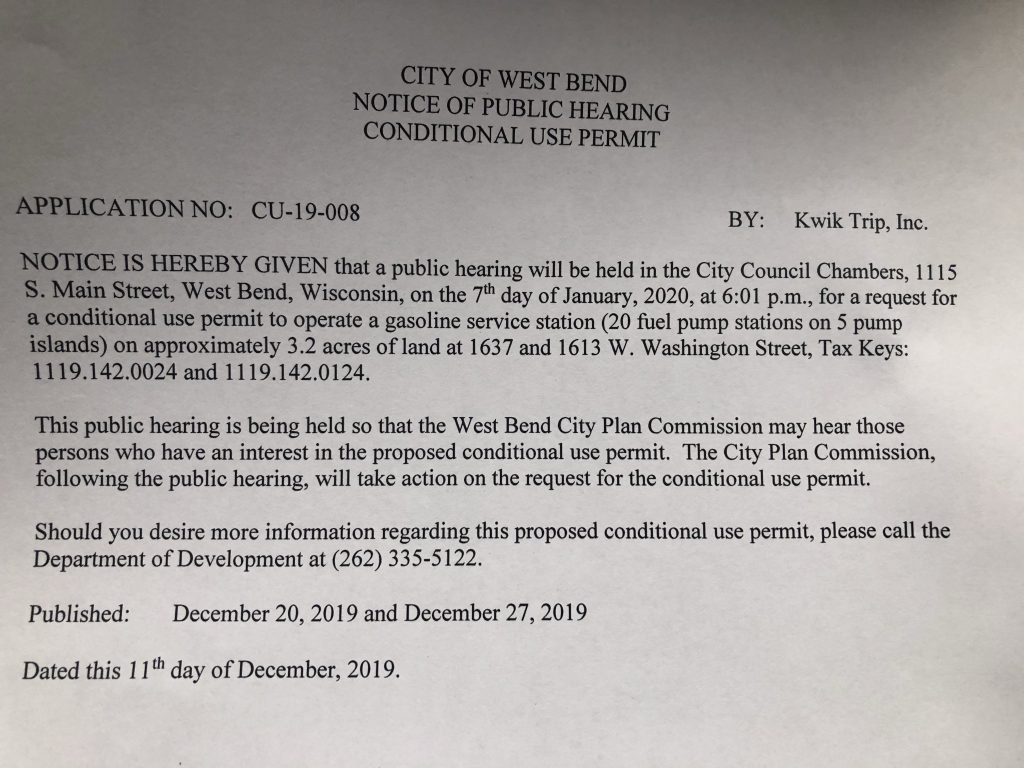 The City of West Bend currently has two Kwik Trips with two more on tap as construction is set for a new store on Highway 33 east and on Paradise Drive and River Road.
"I don't think West Bend is unique as Kwik Trip tries to develop," Hoogester said. "I know people who work at various Kwik Trips and they love it there. Kwik Trip is a good employer in this community; they're hiring a lot of people."
According to the notice the public hearing will be held January 7, 2020 at 6:01 p.m. in the council chambers at City Hall, 1115 S. Main Street.
The hearing will be a "request for a conditional use permit to operate a gasoline service station (20 fuel pump stations on 5 pump islands) on approximately 3.2 acres of land at 1637 and 1613 W. Washington Street. The public hearing is being held so that the West Bend Plan Commission may hear those persons who have an interest in the proposed conditional use permit. The City Plan Commission, following the public hearing, will take action on the request for the conditional use permit."
Calls to Kwik Trip and Fleet Farm were placed Tuesday, Dec. 17, 2019.
This is a story in progress and more details will be posted when information becomes available.