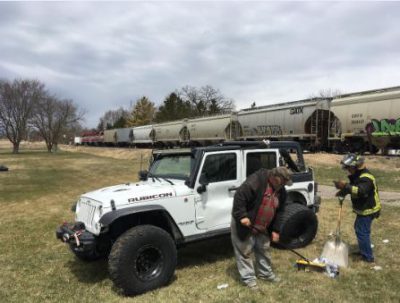 April 27, 2018 – Dodge Co., WI – The Dodge County Sheriff's Office is currently at the scene of a car versus train crash in the Town of Burnett in central Dodge County.  No injuries were reported and no major roads are blocked.
At about 12:06 pm on Friday, April 27, 2018, The Sheriff's Office began taking reports of a collision involving a passenger vehicle and a train on the railroad crossing at Cross Street, in the unincorporated area of Burnett.  This crossing is just east of State Highway 26.
Motor vehicle traffic at the Cross St. crossing is controlled by a yield sign.
A Jeep Rubicon operated by a 27-year-old Mayville man collided with a northbound Wisconsin & Southern freight train.  After the collision, the train was able to stop prior to the crossing at STH 26, so there were no significant impacts to other traffic.
The driver of the Jeep was the only occupant and did not report injury, but was evaluated by medical personnel at the scene.  The train engine was occupied by an engineer and conductor, neither of which was injured.
The circumstances of the collision are still being investigated.  The scene is expected to be clear in the near future.  Assisting in the response were Horicon EMS, Burnett Fire Department and First Responders, and Dodge County Emergency Management.  Photo of scene attached was taken by the Sheriff's Office.