West Bend, WI – The annual Cedar Community Butterfly Release on Saturday, Aug. 17 is an uplifting celebration of life where friends and families join in the release of hundreds of butterflies, honoring their loved ones. Guests enjoy musical entertainment, an activity area for all ages, memorial wall and food and beverages available for purchase.
Admission with one butterfly: $5 (six and older)
(Five and under receive free admission and no butterfly.)
Each person must have a ticket to be admitted to the Butterfly Release. Admission tickets are available for purchase at the following locations:
. Cedar Community, Cedar Lake Campus | 5595 County Road Z,
West Bend
. Cedar Community, Cedar Ridge Campus | 113 Cedar Ridge Drive, West Bend
. National Exchange Bank | 1320 W. Paradise Drive, West Bend
. The Hub | 303 Water Street, West Bend
. Commerce State Bank | 1700 S. Silverbrook Drive, West Bend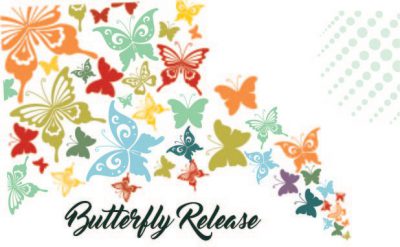 Tickets are first come, first serve. Only 350 tickets are available.