August 12, 2019 – Hubertus, WI – The upcoming school year at St. Gabriel's in Hubertus will start with a new and grand playground.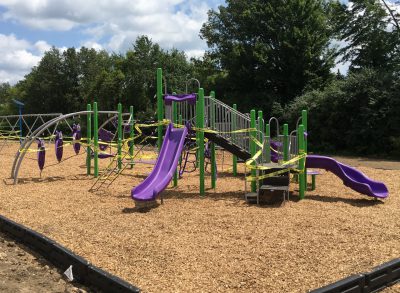 With the generous help of many volunteers the playground was assembled in two days this month.
Materials were purchased from Lee Recreation of Cambridge Wisconsin. The company also provided three very qualified assembly technicians Toby, Sam and Andy. They were very impressed by the number of volunteers and their assembly abilities as well.
The yellow tape is scheduled to be removed around August 15 a Catholic Holy Day, The Assumption of Mary.
At that time the swing seats will be added and the enjoyment will begin.
St.Gabriel School is accepting student applications.  Click HERE for more information.
St. Gabriel's Giant Flea Market is on Saturday, Sept. 14. The vendor spaces are $40 this year and they are selling fast.
It's anticipated there will be more than 400 vendors again this year.
 St. Gabriel Catholic School is committed to cultivating a responsible and respectful Catholic identity in the name of Jesus. Our faith journey includes strong academics, discipleship of Christ in our communities, and a growing relationship with God advanced through the sacraments. We seek to build a parish community which has "many parts one body," rooted in the values of the Gospel.