June 3, 2019 – West Bend, WI – Cedar Community's 60-plus year history has seen multiple generations of families living and working together.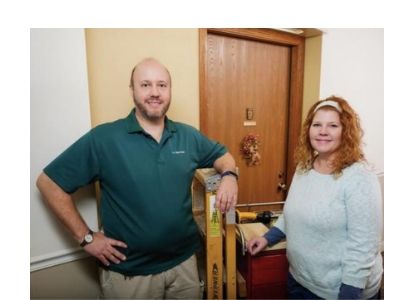 The stories shared by family members who have worked at Cedar Community sparked the interest of future generations looking for careers. The longevity of many team members is staggering. In 2018, 99 employees reached over 2,275,000 hours of service. Generations of families have also lived at Cedar Community, many since the original campuses first opened their doors to the community.
Angie Eisen Kottwitz was interested in a career at Cedar Community based on the many positive stories her ex mother-in-law shared. She was a registered nurse and Angie enjoyed listening to her talk about her care for the residents, and what a good feeling she had for being able to help others, especially older adults.
Angie participated in Cedar Community's certified nursing assistant training program in 2003. Shortly after completing the program, she moved with her husband out of state where she continued her education. She became a licensed practical nurse, and then she and her husband returned to Wisconsin, and she returned to Cedar Community.
Read the rest of the story by clicking
HERE
.