Cedar Community | The Stories of Howard Knox | By Carrie Sturn
March 25, 2019 – West Bend, WI – With 98 years of a very active life behind him, Howard Knox has a lot of stories to tell.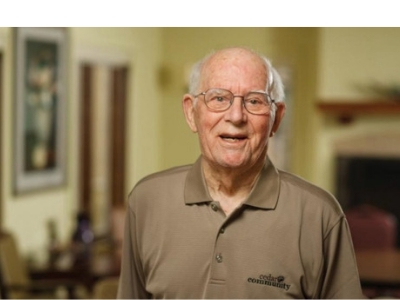 Howie was born in South Milwaukee, growing up with two brothers and two sisters. Their father was a plumber and the boys sometimes helped their dad. When they were old enough, they each had a paper route. With the first dollar Howie earned in 1930, he bought himself a pair of shoes – with no holes in them!
He became active in Boy Scouts. In 1930, he was the first Cub Scout in Wisconsin; he continued on to earn his Eagle Scout award at age 16. His scoutmaster gave him his 1917 bugle (which he still has), and assigned him to be the group bugler. He was in the Milwaukee Boy Scout Drum & Bugle Corp for four years. Music was always a big part of his life; he is referred to as 'Mr. Music Man'. Along the way, he taught himself to play the piano when he was down with the mumps.
Howie got his draft notice in December of 1941. He graduated from college and the Navy finally called him to midshipman School in September of 1942. He served during World War II in the Central and South Pacific on a towing-salvage ship, the USS Tawasa. He told a number of stories of his experiences on the ship during the war. As a lieutenant junior grade, he was in command for eight months. He returned to the United States to be trained for….
Click HERE for the rest of the story.
Be sure to read more about Cedar Community at Live More Magazine.