Celebrating 11 years in business at Maricio's

Folks on Barton Avenue have reason to celebrate as a little mom-and-pop business rings in its 11-year anniversary.
"I remember opening day," said Mary Waters, owner of Maricio's Pizza in Barton. "It was Monday lunch and it was me, Rick and Michael and we lost power."
Waters remembers a black-and-white photo where she and a couple other staffers were looking in the oven like, 'what's going on?' "Our customers were saying it was an omen and that now we were going to be successful because we got that out of the way on our first day," she said.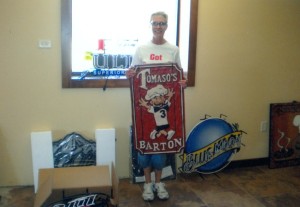 It was 11 years ago when Waters and her husband Rick moved into the old Fast Eddie's Tavern, 1726 Barton Ave. A huge remodel got underway. "We found beer cans in the walls," laughed Mary. "We didn't think we were going to have to gut it out but the fellas really loved coming to work because they got to demo everything."
The stories of the past 11 years fly by as photo albums detail the change from 80s tavern to Italian eatery. The Water's restaurant originally opened as Tomaso's in Barton; it was a franchise out of Cedarburg that focused on pizza.
In September 2012 the Waters made a business decision and changed the name and the focus of the restaurant. "We changed the name to Maricio's, which is a combination of our names, Mary and Rick," she said.
The solid staff stayed the same, but the menu was kicked up a notch. "We added a couple new things including lowering the price of the thin-crust pizza," she said. "We realized our entire menu had just taken off, between our sandwiches and calzones and everything Rick does with the soups and appetizers, it's amazing."
Mary has a bubbly enthusiasm that never needs winding up. She has a genuine, caring demeanor, and welcomes you in like she's been waiting specifically to spoil you with good food.
"We've been so lucky to have Dave come in every single day," said Mary, teasing a regular customer at the counter. "If we don't see him we hunt him down."
The atmosphere at Maricio's is a bit like the 1980s TV show 'Cheers,' where 'everybody knows your name and they're always glad you came.'
"We do have a lot of great customers that are family; diehards," she said. "There are 10 to 15 couples that come in weekly and about five that come in each day; we really are very lucky."
Mary said she gets "goosepimply" when she talks about her customers and she ratchets her enthusiasm up a notch when she hears praise about how much people love their food.
"Just last night alone I had two fellas come in for takeout and they were trying our pizza for the first time," she said. "The one guy called back and he was like 'Oh my GOSH – I'll be back!'
"I just love that; that's what makes it for me."
Over the years Maricio's and the Waters have established themselves as strong community servants paying back to the community with support for Habitat for Humanity, Holy Angels, Little League teams, and the West Bend High Schools.
Maricio's is prepping for two more major events as the Super Bowl is around the corner and Valentine's Day. "We do a heart-shaped pizza for Valentine's and we have special appetizers as well," she said.
Maricio's is open Tuesday – Sunday, 11 a.m. – close.