Century Farmhouse Notes: Great-Grandma Anna's Hermits – a muffin recipe | By Ann Marie Craig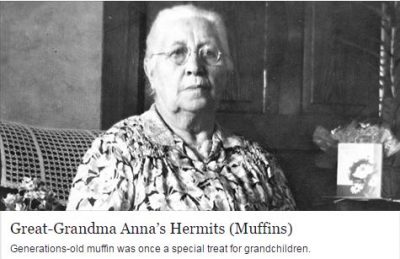 May 24, 2017 – Big Cedar Lake, WI – My sister Carol sent what we think is one of our oldest family recipes to the Milwaukee Journal. Let us introduce you to my great-grandmother, and her Hermits muffins recipe.
Try them, they are wonderful!
When she was making the Hermits as an after-school snack, she was living in the lovely old, log house that I now live in. Don't you love family stories?
A portion of the story in the Milwaukee Journal Sentinel is below.
This after-school snack dates back a century or more
Carol Hanrahan of Waterford sent in this recipe for hermits, from her great-grandmother Anna Tennies Wagner, born in 1858. Hanrahan's mother, Pearl Mueller, still lives on the West Bend farm settled by Wagner and her husband, Karl, 127 years ago.
 "I did not have the good fortune of knowing my great-grandmother," Hanrahan said, "but I understand that she was a very good cook."
"I cannot provide a date for this recipe," she added. "Did she make these little cakes as a young girl growing up in the mid-1800s?" What is known is that Wagner made the hermits as "a special treat for her grandchildren as a snack when they returned home from school in the afternoons."
Click HERE to read more and check out the recipe.
Photo courtesy Milwaukee Journal Sentinel