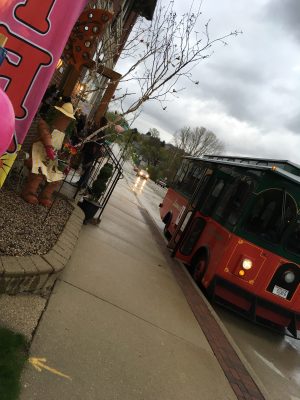 April 28, 2017 – West Bend, WI – When there is chocolate on the trolley, you know it will be a good ride.
Add a little bling and it will be a very good thing. The Diva Group's Spring Bling on Thursday, April 27 featured a free trolley ride between shops, and it was my job to keep the fun alive on one of the two trolleys that drove in circles around the city.
So everyone was offered chocolate; the pieces with almonds had the greatest "yum" factor.
There were drawings for coveted Century Farmhouse soaps on our trolley.
The fundraiser stretchy rings could be seen up close, and the Diva Item of the Year, the pink Blinging in the Rain umbrella, was admired.  All this fun to shop-till-shoppers-dropped and to raise funds for Chix 4 a Cause was a great excuse to ride the trolley – to go from store to store without having to drive.
Ann Marie Lanser and her daughter Anja hopped on and off the trolley several times.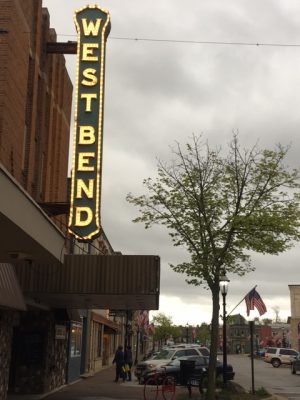 "I have attended probably five Spring Bling events over the years," said Ann Marie. "My favorite thing about Spring Bling is everyone is in a happy, spirited mood, even if it is raining."
And it did rain, not as much as at past Spring Bling events, but enough that one of those pink umbrellas came in handy several times.
Anja Lanser, a student at Silverbrook Middle School, said she enjoyed seeing the new shops and hanging out with the "fun" shopkeepers.
"They always have a lot of fun," she said. What would Ann Marie and Anja change about Spring Bling? "The weather," both of them agreed.
Charlene Cechvala was in the right place at the right time. Charlene always shops at the Fall Diva event in September – this was only her third Spring Bling event, but since she likes to see the new shops, she made it a point to come this time.
She mentioned she really likes to do things at the shops; to get involved.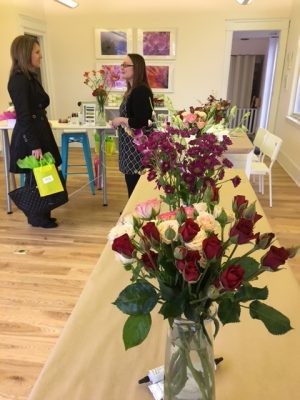 When she stopped at Consider the Lilies, the couture floral studio newly opened at 136 S, Main, she was asked to take a photo of the owner and her friend with a gorgeous bouquet of flowers. What would Charlene change about Spring Bling? "The weather," she said.
Well, it did rain. "The umbrellas were a good idea," commented Vickie Pretsch. 
There was conversation on our trolley.
Will you ride along next time? I'll bring the chocolate.