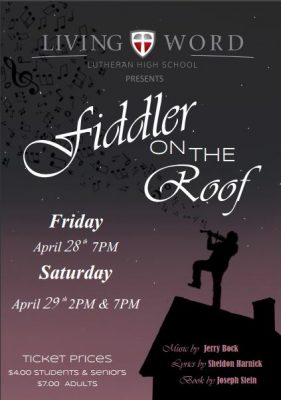 April 28, 2017 – Jackson, WI – Are you looking for something interesting and exciting to do this Friday and Saturday?
Come see Living Word Lutheran High School's Drama Department put on the production of Fiddler On the Roof.
The musical follows the life of a Jewish man, Tevye, and his family who struggle to stick with tradition while the world continues to change around them.
Not only does this musical have great songs, dance numbers, and a wonderful story line, but an amazing cast to portray this story and its characters.
Our cast has worked hard on this show for months and would love to have a full house.
It is a show no one will ever forget!
Please come see Fiddler On the Roof at Living Word Lutheran High School on April 28 at 7 p.m. and April 29 at 2 p.m. and 7 p.m.