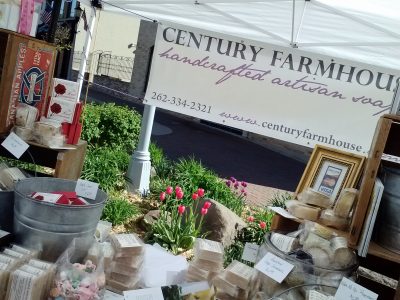 May 9, 2017 – Big Cedar Lake, WI – Normally in May at the Farmhouse, I am getting soaps ready, planting early vegetables and herbs, and scoping out which flowers from my mother's gardens will be ready to snitch in the dark of the early morning to decorate our Farmers' Market booth at the end of the month. Don't worry, my mom does know I help myself to her blossoms. Sometimes she invites me to take them!
This year will be a little different.
After a bit of a hiatus, Century Farmhouse soaps will be available again, in limited quantities of course. After we return from New York, soaps will be available online for a short time as well as at the West Bend Farmers' Market on the dates listed below. So keep in touch. Follow Century Farmhouse on social media and in the news. And watch for the occasional first-come-first-served bars of soap to be available for you to purchase. It is going to be fun!
Website: centuryfarmhouse.com – and follow our blog!
Follow us on Facebook, Twitter, and Instagram too.
Upcoming events:
In West Bend:
A package containing several chunky bars of a new, limited edition soap from Century Farmhouse called Mexican Hot Chocolate will be part of the fundraising efforts of Casa Guadalupe's Fiesta Latina on Sunday, May 21. You have to smell this amazing soap – it is like Chai with Chocolate!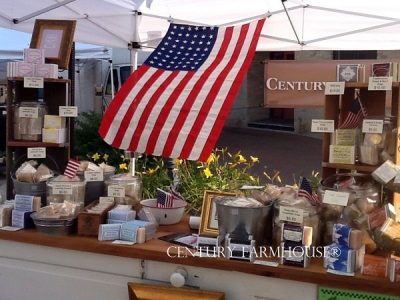 Join me at the West Bend Farmers' Market on these Saturday mornings: June 17, July 1, and July 29. Our booth will be right across the street from our former spot.
Elsewhere:
June 2 – 4:  Country Living Magazine's Country Living Fair, Rhinebeck, New York. If you really would like to attend this event, let me know. I have tickets to give away.
July 16 – 22:  The Clearing Folk School, Ellison Bay, Wisconsin: Making Handcrafted Soap and Lavender Wands  There are still spaces available for this class, which includes a field trip to Fragrant Isle Lavender Farm on Washington Island.