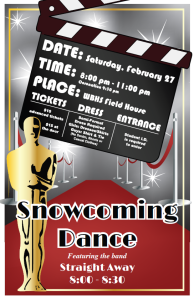 A first-run story by Kaitlyn Von Behren from The Current at the West Bend High Schools regarding a new name and format for the Feb. 27 Charity Ball. Von Behren said the name of the event has changed along with a number of other thing. Read a portion of her story below.
By Kaitlyn Von Behren, Current Staff
The Charity Ball has a new name: Snowcoming.
Over the past month, the WBHS Student Council made decisions to modify the annual Charity Week, to encourage more students to participate. Only 300 students attended the Charity Ball last year.
Starting Feb. 22, Snowcoming Week will include dress up days (displayed around the school) that correlate with the charity the West Bend High Schools are supporting each day.
Participating in these dress up days will show support for the Nathan & Esther Pelz Holocaust Education Resource Center; Homes for Our Troops; the Youth and Family Project; Movement and Action for Benefit Orphans; MACC Fund; and JDRF, which funds diabetes research. The week will end with a Hollywood-themed dance Saturday night in the fieldhouse.
"I am excited about the cancer charity were donating to because I've had family members pass of cancer. It's always good to give back to the research and to be able to progress in finding a cure for cancer," said Kellie Armistead, Student Council member.