Saukville, WI – Charter Manufacturing Company, Inc. is a family-owned steel and iron production and manufacturing company founded in the 1930s.
"Our will to grow is our success. It is the result of Charter's respected team of employees, each person's dedication to continuous improvement and an entrepreneurial spirit that thrives within the Charter family."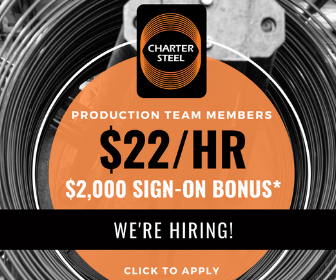 Charter Manufacturing has job openings. Click BELOW to learn more.
"Charter's culture is our strongest competitive advantage.  Trust and empowerment define our culture and create an environment that engages our employees, driving us to strive to do it better.  Together, we are One Family. One Team."