Chef from West Bend on Food Network promises a "comeback"
March 2, 2018 – West Bend, WI – A tough night for the Luedtke family in West Bend as Al Luedtke's daughter Crista put on a great performance on the Food Network but failed to advance to the final round in a cook off on the show Beat Bobby Flay.
Crista grew up in West Bend and later moved to California where she opened her own restaurant Boon Eat + Drink.
Thursday night on national TV she went up against Alan Vargas in the kitchen with an assignment: Langoustine, which is basically a small lobster.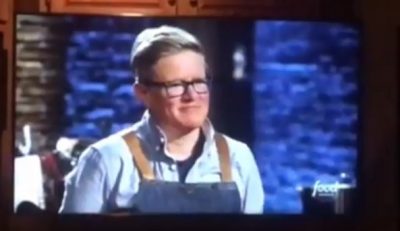 Chef Crista made a bourbon poached langoustine chowder with corn and mushrooms combined with fried langoustine "for crunch."
The judges were impressed with her effort, mentioned it was a little "over cooked and chalky" but the fried langoustine had a unique and inviting texture.
In the end, chef Alan moved onto the second round but dad Al was as proud as could be.
March 1, 2018 – Foodies in West Bend and Washington County will want to tune into the Food Network tonight at 9 p.m. as Crista Luedtke, who hails from West Bend, will be competing against Bobby Flay on the show Beat Bobby Flay.
Luedtke grew up in West Bend, went to St. Frances Cabrini School, and was the first girl on the Little League team coached by John Rozek.
A movie, Empire on Main Street, was even made about Luedtke's career in the food industry
 and how she grew to be the force behind Boon Hotels in Guernville, California.
 (see preview below). Tonight she will put her talents on the line as she takes on master chef Bobby Flay.
On a side note: If the name 'Luedtke' sounds familiar, Crista is the daughter of local Shorewest real estate agent Al Luedtke.