Coaches vs. Cancer check presentation at Slinger High School | By Debra Martola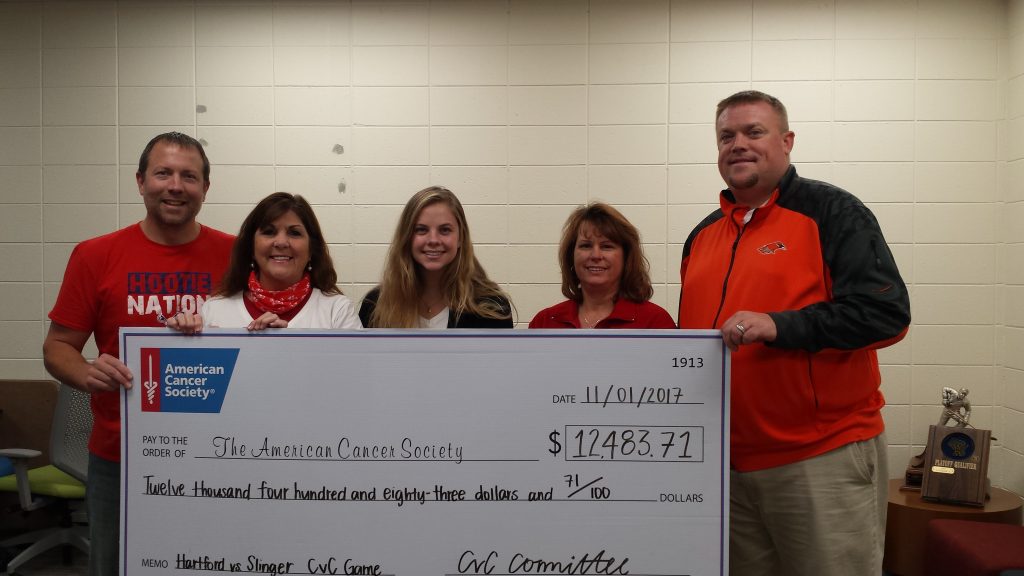 Nov. 2, 2017 – Slinger, WI – There was a check presentation Wednesday at Slinger High School as students from Hartford Union High School and Slinger teamed up to raise money and awareness for the American Cancer Society.
On Sept. 8, 2017 there was the 7th annual Slinger vs Hartford "Coaches vs Cancer" football game, hosted this year by Slinger.
Once again we had a unified T-shirt logo to demonstrate our dual communities commitment to this event.  Both SHS and HUHS students, faculty and fans once again rallied behind their respective teams either by purchasing and wearing this year's Coaches vs Cancer T-shirt, proudly displaying our wonderful business supporters logos, buying raffle tickets for numerous great prizes, participating in a 50/50 cash drawing or contributing to the 87 second cheerleader "dash for cash," which earmarks the 2017 statistic that 87 people in the state of Wisconsin will hear the words "you have cancer."
Fox 6 News covered the event as well, as we were the game of the week.  Not only was this a big rivalry football game, it was, and continues to be a fundraising event for those battling a much larger rival….cancer.
The event was initiated in 2011 by Kevin Wilkinson, a Slinger football coach who had a personal history of colon cancer.  A month after that game/event he passed away.
A traveling trophy was created in his memory that goes to the winning team, and each year a plaque is added with that teams name, and the collective fundraising amount.  In 2016, one week after last years event, Hartford's coach John Redders lost his father Darrell, to cancer.
A decision was unanimously made to rename the trophy as the Wilkinson-Redders Memorial Trophy.
It was rededicated this year prior to the game, with both Wilkinson and Redders family members present.  This year, our event raised over $12,000!  To date, this local event has contributed over $83,000 towards the fight against cancer.
Coaches vs Cancer is a nationwide collaboration between the American Cancer Society and the National Association of Basketball Coaches that empowers coaches, their teams, and local communities to make a difference in the fight against cancer.
Every day, cancer patients face barriers that can impact her ability to get well. Funds raised through Coaches vs Cancer help the American Cancer Society provide programs for those patients to address these challenges, such as coping with their diagnosis, managing their treatment and side effects, and giving them hope for life after cancer.
The initiative combines the personal experiences, community leadership, and the professional excellence of athletic coaches nationwide to increase cancer awareness and promote healthy living through year-round awareness,  fundraising and advocacy programs.  For the past two years as the highest fundraising event in our state, representatives from Slinger and Hartford had the distinct honor of an invitation to the "Coaches vs Cancer Wisconsin Gala Ball" held in Madison.
Wisconsin sits atop the leaderboard nationally as well for CVC.  Community minded businesses and supporters continue to contribute to this success by T-shirt sponsorship and or raffle prize donations, and we cannot thank them enough for that!
At the end of the night…only one team was announced victorious, but the rivals and fans can go home, knowing they were ALL part of a community event that supports victories over cancer.