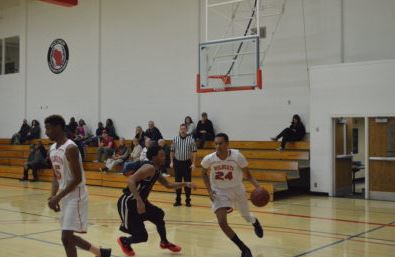 Dec. 5, 2017 – Washington Co., WI – UW-Washington County men's basketball team used an inspired hustling defense to force 26 turnovers including 17 steals, in a frantic come-from-behind victory, 79-77, against the very tall and talented team from UW-Sheboygan.
Trailing by as many as 17 points in the first half, the Wildcats gained the momentum with an all out effort on defense and the loud support of the home crowd, as well as the tremendous encouragement by the entire team from the bench.
The rally included 50 percent shooting as a team from the floor in the 2nd half, many shots coming on drives to the basket in the transition part of the game.
J Broxton Thomas led all scorers with 20 points, hitting 10 of 15 free throws after being fouled on several drives, and adding a pair of 2-pointers and a pair of 3-pointers.
Adrian Huerta connected on several clutch shots in the closing minutes of the game and finished with 18 points.  Ahmad Pender, Junior added 13 points to the Wildcats attack.  Taylor Tidzump added 8 crucial points on 4-6 shooting.
UW-WC's rebounding leader was Koy Walsh with 10.  Derrick Chaney led the Wildcats in steals with five.  Assist leaders were Pender, Thomas, and Chaney with 3 each.
The UW Sheboygan Wombats were led by 6'8 Forward Alex Antoine with 17 points, 16 rebounds, and 4 blocked shots and 6'9 Forward Nate Serketich with 15 points and 8 rebounds.
But in this game, it was the stifling perimeter defense of the UW-Washington County guards that turned the tide in favor of the Wildcats.
The behind-the-scenes preparations were quite instrumental to this victory as on Sunday, the day before the game, the entire team came in to practice and watch game film for three hours after the Packers game, and then afterward, the coaching staff stayed another three hours planning the details for how to best put the team in position to be successful against this unique opponent.
Next up for the Wildcats is a very important home game Wednesday night, Dec. 6, as UW-Fox Valley travels from Appleton to West Bend for a game slated for 7:15 p.m.
Make the drive to 400 S. University Drive in West Bend to see if the 6-0 Wildcats can stay undefeated against the sharp shooting Cyclones from Fox Valley this Wednesday night.