Community Blood Drive on Feb. 10 in West Bend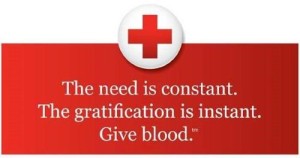 Community Blood Drive – City of West Bend
Date:
February 10, 2016
Time:
12:00 PM – 5:00 PM
Location:

1115 S. Main Street

West Bend, WI 53095
The City of West Bend is hosting a Community Blood Drive on Wednesday, February 10 from 2 p.m. – 5 p.m. at West Bend City Hall 1115 S. Main St., West Bend WI.
Please contact the Red Cross or Kim Wendelborn at 262-335-5000 to schedule an appointment.  Thank you for making a difference!
While thousands of people from across the country have responded to the call for blood and platelet donations issued by the American Red Cross earlier this month, recent severe winter weather has caused an emergency need.
The Red Cross has an emergency need for donors of all blood types to give now and help save patient lives.
*        Recent severe winter weather in some parts of the country forced the cancellation of numerous blood drives, further depleting an already low winter supply.
*        Right now, blood products from the Red Cross are being distributed to hospitals as quickly as donations are coming in.
*          Please keep your blood donation appointment to help offset the current shortfall.
*        Your donation may help patients close to home or in areas where donors are unable to give because of inclement weather.
*        Eligible donors with types O, B negative or A negative blood are encouraged to give double red cells.
o  Type O negative is the universal blood type and can be transfused to patients with any blood type.
o  Type O positive is the most common blood type and can be transfused to Rh-positive patients of any blood type.
o  Types A negative and B negative can be transfused to Rh-positive or negative patients.
*        You can now save time at your donation by using RapidPass to complete your pre-donation reading and health history questionnaire online, on the day of your donation, from a home or work computer prior to arriving at the blood drive. To get started, visit redcrossblood.org/RapidPass<http://www.redcrossblood.org/RapidPass> and follow the instructions.
*        If you have the most recent version of the Red Cross Blood Donor App, you can use the donor card in the app as your official form of identification at your appointment. Download the app by texting "BLOODAPP" to 90999 or searching "American Red Cross" in app stores.
Dispatcher Kim M. Wendelborn
West Bend Police Department
350 Vine St.
West Bend, WI 53095
262-335-5000
Appointments preferred; walk-ins welcome!
For an appointment, call 1-800-RED CROSS (1-800-733-2767) or visit redcrossblood.org.