CPR training saves Kettle Moraine YMCA member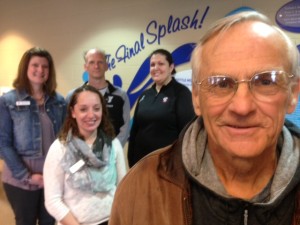 Two weeks ago Steve Riechers, 68, suffered a massive heart attack at the Kettle Moraine YMCA. This week he returned to meet the staff who saved his life.
The 68-year-old from West Bend is the epitome of health. He worked out twice a day and on Feb. 16 was brought down by a heart attack in the locker room at the Y. "I don't remember anything from that day," said Riechers.
Jenny Zaskowski, director of donor development at the YMCA, greeted Riechers and said she did remember the day, quite clearly. "I was leaving for the evening and I heard a faint voice of someone saying there's someone downstairs who is unresponsive," Zaskowski said. "I dropped my coat and purse and ran. We realized we needed a team to help."
Two trainers were flagged. Chris Delcamp administered chest compressions while Jen Robertson performed mouth-to-mouth resuscitation. The pair performed partner CPR until emergency crews arrived. Riechers was admitted to Froedtert Hospital where he eventually underwent a series of heart bypasses.
"You're just heroes," said Cheryl Touchett the life partner of Riechers. "This is just a testament on how brave these people are who acted so immediately. How important it is for people to learn CPR."
During the gathering Wednesday, Riechers shook hands and received hugs from his rescuers.
"Nice to meet you under different circumstances," said Delcamp, 46, personal trainer. "To actually see him as a person; before I hadn't even heard his voice and now it feels like what we did was even more important."
Robertson said knowing CPR makes you more aware and you're not afraid to step in and help
"Once you've got it in your head you just jump in and you know you've gotta keep going with it," she said. "It's easy to learn and it's easy to put into practice."
Anna Hofmann is building supervisor at the Y. "I've worked here for two years and the Y makes CPR a requirement," she said. "I'm happy I know it so I can be of assistance in situations like these."
The Y offers CPR training classes. "The reality is if we were all just trained, we can put our skills into action," said Zaskowski. "It was a team effort and we're very grateful the Y lets us have CPR training; it makes a difference."
Riechers said he was thankful for the quick action. "I have a second lease on life," he said. "I'll do much the same as before; I'm still working but I'll appreciate my grandchildren more."
For video of the Y staff meeting Riechers click here