West Bend High School athletic director makes hole in one at YMCA golf outing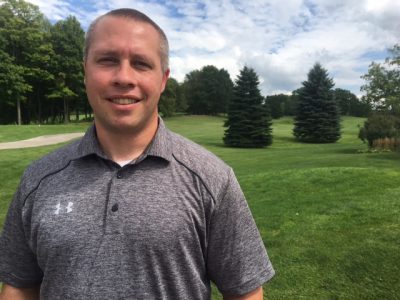 August 14, 2017 – West Bend, WI – Big excitement at the 16th annual Kettle Moraine YMCA Golf Outing at the West Bend Country Club.
During this afternoon's round Denny Ziegler, the West Bend East High School athletic director, hit a hole in one and won a two-year lease on a 2018 Camry  from Russ Darrow.
"It was on the 17th hole and a 155-yard shot and I used a six iron," he said about the par-3. "It just hit the flag stick, heard the loud boom, went up and looked and it was in the cup."
Ziegler, 34, was in shock. "It was just sitting in the bottom of the cup."
"Overall I've been playing ok. I approached this like any other shot and it just happened to work."
This is a best-ball tournament with a record 39 foursomes participating.
"The sponsorship and support from the community has just been wonderful," said YMCA director of donor development Jenny Kruse-Zaskowski. "All proceeds benefit the Y's annual scholarship program."
The goal of the Kettle Moraine YMCA is to raise $50,000. "We just want to make sure the Y is affordable and accessible to everyone in the community," said Kruse-Zaskowski.